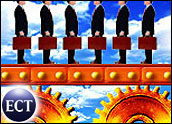 After years of taking a backseat to big business, climate change has moved up the U.S. political ladder, and even Corporate America is providing ideas on ways to get the government involved.
Chief executives from some of the nation's largest corporations urged Congress this week to begin setting mandatory limits on the emissions of greenhouse gases, claiming the current voluntary standards to combat global warming are inadequate.
The coalition of 10 U.S. companies, called the "United States Climate Action Partnership" (USCAP), joined environmental groups in asking the government to implement a new overall strategy that would cut emissions 10 percent below today's levels within a decade and 60 percent by 2050.
The release of carbon dioxide, the principal heat-trapping gas, has been increasing in the United States an average of 1 percent a year, according to the group.
Time to Take Action
The executives, representing major utilities, aluminum and chemical companies and financial institutions, said the cornerstone of a new climate policy should be an economy-wide emissions cap-and-trade system.
"We can and must take prompt action to establish a coordinated, economy-wide, market-driven approach to climate protection," USCAP said in an open letter to President Bush.
The proposed cap-and-trade system would have mandatory limits of greenhouse gas emissions, but would allow companies to trade emission credits to reduce the cost. Companies unable to meet the cap could purchase credits from those that exceeded them — or, in some cases, from a government auction.
Among USCAP's corporate members are Alcoa, BP America, DuPont, Caterpillar, General Electric, Duke Energy, Lehman Brothers, Pacific Gas & Electric, PNM Resources and FPL Group. Other member organizations include Environmental Defense, the Natural Resources Defense Council, the Pew Center on Global Climate Change and the World Resources Institute.
No Harm to Economy
The mandatory reductions can be imposed without economic harm, USCAP told reporters at a National Press Club news conference in Washington. In fact, the move would lead to economic opportunities if implemented across the economy with provisions to mitigate costs, the group claimed.
Many of the companies involved already have voluntarily moved to curb greenhouse emissions, USCAP said, but the group emphasized that voluntary efforts are not enough.
"It must be mandatory, so there is no doubt about our actions," said Jim Rogers, chairman of Duke Energy. "The science of global warming is clear. We know enough to act now. We must act now."
Creating a Competitive Advantage
However, not everyone is impressed with big business' latest push to help save the environment. The move is likely designed to create a competitive advantage for the companies within the energy sector, while generating some positive press, suggested Sterling Burnett, Ph.D., a senior fellow at the National Center for Policy Analysis.
"I think a lot of these companies, especially the utilities, have thrown in the towel and think that legislation is inevitable," said Burnett. "Rather than fight regulation in every state they operate in, they would much rather have one unified national standard."
The latest efforts to lobby Congress could also create a competitive advantage for utilities that have a stake in the growth of wind and nuclear power, he pointed out.
"If you force carbon caps, it is going to hurt the coal industry while helping those invested in wind power and nuke power," he said. "There is a very strong profit motive here."
Bush is expected to address the issue Tuesday in his State of the Union speech, although Burnett says it isn't likely the president will introduce binding rules for emissions any time soon.