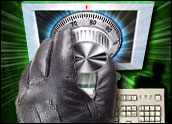 President Bush this week created an "ID theft prevention" task force by executive order, and Internet security executives are reacting positively, if cautiously, to the new federal initiative.
"This task force should help improve coordination among federal, state and local authorities. It's a positive step toward addressing the problem of identity theft," Bill Conner, president and CEO of Entrust, told the E-Commerce Times.
While optimistic over the creation of the task force, Conner renewed Entrust's call for a national data breach notification law.
"We hope the federal government's leadership role on identity theft doesn't end with this task force," said Conner. "While this is a positive step, Congress needs to pass a data breach notification law that assures consumers, clears up the patchwork of state laws and gives organizations the option to protect customer data through encryption."
Myriad Local, State Rules
Conner said that with the myriad of state and local legislation on the books, clearly this issue needs federal action to make sure all U.S. citizens are protected.
"With the fragmentation of different state and local laws and penalties, it has become a burden for organizations to navigate the nuances of each one. This Presidential action should serve as a catalyst to achieve some kind of ubiquity among the laws," said Conner.
"Congress has begun the process to better protect consumers' identities and data and hopefully the President's action will help spur them to complete the job. Only federal action will ensure all consumers and all data are protected sufficiently and delays needlessly jeopardize consumers. Action is long overdue and the blueprint has been crafted so let's act," Conner added.
According to a fact sheet, issued by the White House, and obtained by the E-Commerce Times, it is now the policy of the U.S. to use federal resources effectively to deter, prevent, detect, investigate, proceed against and prosecute unlawful use by persons of the identifying information of other persons, including through:
Increased aggressive law enforcement actions designed to prevent, investigate, and prosecute identity theft crimes, recover the proceeds of such crimes and ensure just and effective punishment of those who perpetrate identity theft;
Improved public outreach by the federal government to better educate the public about identity theft and protective measures against identity theft, and address how the private sector can take appropriate steps to protect personal data and educate the public about identity theft; and
Increased safeguards that federal departments, agencies and instrumentalities can implement to better secure government-held personal data.
Task Force Players
What is more, there is now a White House-based "Identity Theft Task Force" that shall consist exclusively of: the Attorney General, who shall serve as Chairman of the Task Force; the Chairman of the Federal Trade Commission, who shall serve as Co-Chairman of the Task Force; the Secretary of the Treasury; the Secretary of Commerce; the Secretary of Health and Human Services; the Secretary of Veterans Affairs; the Secretary of Homeland Security; the Director of the Office of Management and Budget; the Commissioner of Social Security, and other officers of the government, like the chairman of the fed, according to the White House.
"Identity theft is a serious problem in America," said President Bush, upon meeting with victims of ID theft at the White House on Wednesday.
States Continue Push
States are continuing, meantime, with their efforts to combat ID theft. A new bill, introduced in Delaware this week, enables consumers to "freeze" their credit if victimized by ID theft.
Sen. Robert L. Venables, (D-Del.) this week unveiled a bill which has support from consumer and banking groups.
"We are looking to stop identity theft and its financial losses at the very inception," said George Fitzgerald, a lobbyist for the Delaware Credit Union League.
Senate Bill 109, if passed, would allow consumers to freeze their credit by sending a certified letter to the three major credit rating bureaus and paying a US$20 fee to each agency. Victims of identity theft could freeze their credit for free, the sponsor said.