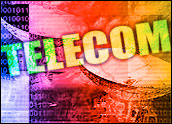 The two largest phone companies in Canada are in talks for a possible merger that could fend off U.S.-backed private equity buyers as the wave of consolidation that reshaped the U.S. telecommunications landscape appears poised to hit north of the border.
BCE, the largest phone provider in Canada, confirmed Thursday that it was in talks with the country's No. 2 firm Telus about a transaction in which Telus would buy BCE. BCE did not disclose terms of the proposed deal.
Combining the two firms may be the best way to ensure control of the companies remains in Canada. Private equity interests with roots in the U.S. have already approached BCE, which owns and operates Bell Canada, about a possible take-private transaction, Telus said.
Financial Opportunities
BCE could not be sold outright to non-Canadian interests, and ownership by foreign investors would be capped at 47 percent because it is directly regulated by the Canadian government. However, U.S. backers could gain significant ownership, and some believe restrictions on foreign ownership may one day be lifted.
"Telus believes the combination of the two businesses would represent a compelling strategic and financial opportunity for all BCE and Telus stakeholders," said Telus CEO Darren Entwistle. "It would be an all Canadian solution for both immediate and long-term value creation, whilst ensuring a vibrant player continues in this increasingly competitive industry."
Repeat Performance
The conditions and factors that drove consolidation in the U.S. telco space are seen elsewhere around the world, telecom analyst Jeff Kagan told the E-Commerce Times.
"The Canadian telecommunications marketplace is going through the same transformational trends that are currently reshaping the U.S. marketplace," he said. "In fact this wave is covering the world. And the U.S. marketplace is not the first [to go through it]," Kagan added.
The Telus-BCE hookup would likely bring about strong regulatory reviews and possibly a demand for divestiture of some assets, including some of the two companies' wireless holdings.
Still, for Canadian regulators, even a merger creating a dominant market player may be preferable to having outside interests control part of the national phone system.
Sniffing Around
Private equity firms have been sniffing around BCE for some time, likely believing there is value to be unlocked by reorganizing the company and possibly by splitting it up into smaller operating units.
Kohlberg Kravis Roberts, or KKR, joined forces with three Canadian pension funds to make a bid for BCE, one that reportedly could be worth as much as US$45 billion. In all, three private equity-led groups, at least two with roots in the United States, have expressed interest in BCE.
The massive wave of private equity buyouts has already reached the telecom space in the U.S., with private buyers acquiring Alltel wireless for $27.5 billion just last month. That sale came after three years of massive consolidation in the industry, which saw Verizon buy MCI and the firm that was SBC Communications morph into the new AT&T after a series of acquisitions.
VoIP and Video
The Canadian telecom providers may be experiencing the same competitive challenges as their U.S. counterparts, with pure-play VoIP (Voice over Internet Protocol) providers, cable companies and others eating into what had for decades been a market protected by regulatory and technological hurdles.
In addition, more Canadians are eschewing home phone lines in favor of mobile phone contracts.
Like many of its U.S. counterparts, BCEs saw a huge drop in traditional landline customers, shedding a million customers in the five-year period that began in 2002. BCE embraced wireless as a growth engine, but has not invested heavily in the type of fiber-to-the-home network that would enable it to compete directly with cable companies to deliver television and other services.
Canadian regulators may have a special interest in seeing BCE remain both in Canadian hands and a publicly traded company, UBS analyst Jeffrey Fan told the E-Commerce Times. BCE is one of the oldest continuously publicly traded companies in Canada, dating to 1905, and its significant contribution to the country's tax till may be impacted if it goes private.
Still, those same regulators are likely to require some wireless holdings be divested if the merger goes through, since the companies have overlapping services areas on the mobile side of the business, Fan added.
As long as those divestments don't cut too deeply in to the fast-growing wireless businesses, the companies could likely absorb the losses thanks to a potential for nearly $1 billion in cost savings, reduced capital expenses and other synergies.
Telus also argued that a combination would help create a national telecom company similar to the UK's British Telecom and others — which could have homeland security implications in the future — and that a merger would be the "most likely strategic alternative to preserve long-term Canadian control if foreign ownership restrictions are removed," the company said.