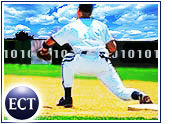 The matchup many fans and advertisers hoped to see in baseball's World Series failed to materialize this year as both the Chicago Cubs and the Boston Red Sox fell apart — again — just short of advancing to the Fall Classic.
Nevertheless, fans' feverish interest in the baseball playoffs, many of which took place while much of the U.S. fan base was still at work, may have helped propel the online sports world toward a profitable and robust future.
"There's a good buzz in the industry right now," Nielsen//NetRatings senior analyst Greg Bloom told the E-Commerce Times.
Whether that buzz will turn into blockbuster business is another question. Bloom noted that MLB.com, which recently began offering a host of paid content, such as full-length videos of certain games, owns exclusive rights to that content and can turn a profit on a relatively small number of sales.
"If they sell, say, 14,000 copies of Game 7 of the Yankees-Red Sox series, is that a major event in terms of the overall Internet? Probably not," Bloom said. "But they're almost certainly making money on that."
Sports Plus
The Internet has long been a go-to medium for die-hard fans who want to see scores right away. Rather than waiting for the morning paper, the late news or even the ESPN ticker, these enthusiasts can get the information they want on their own time frame.
"Sports fit with the Web because it's an on-demand medium," MLB.com president Bob Bowman told the E-Commerce Times. "The sense of following a game in real-time on the Internet can be just as exciting as watching it live."
According to data from comScore Media Metrix, about 51 million U.S. Internet users visit a sports-related site each month. While most of those users browse general-interest sports sites, such as ESPN.com and Yahoo Sports, an increasing number are heading straight to the source of their favorite sport.
Even in the middle of the off-season doldrums, for example, MLB.com draws about 1 million visitors per month — and NFL.com drew about 10 million unique visitors in August, according to comScore.
Squeezing the Feed
Meanwhile, as traffic to sports sites builds, Internet users' appetite for paid content continues to grow. A study comScore conducted for the Online Publishers Association found that U.S. Web users spent US$748 million on paid content in the first six months of 2003 — 23 percent more than in the same time period last year.
However, sports does not appear in the top tier of online categories for which consumers are willing to pay. That list is topped by personals and dating services as well as business and investment news. One problem may be the proliferation of sites where statistics and scores are readily available for free.
Sports leagues face a couple of challenges as a result. If they want to hit home runs online, they need to focus on their exclusive content. And even then, they must carefully ration how much they offer on the Web to avoid cannibalizing their network or cable television audiences, which still provide the vast majority of their revenue.
"They've done a good job with that so far," Nielsen//NetRatings' Bloom said. For instance, MLB.com only offers live video feeds of baseball games in overseas markets where those games are not broadcast.
Fantasy Life
One area that has experienced dramatic growth is fantasy sports leagues. Online sites increasingly are generating revenue by offering services for these leagues in various sports — particularly pro football — collecting nominal fees for joining a league and then providing access to a treasure trove of updated stats.
It is hard to say exactly how much traffic fantasy sports drives. But NFL.com and its related properties were among the fastest-growing Web sites in terms of traffic in August — before the season began in earnest and just about the time fantasy players were finalizing their rosters.
However, Bloom said, the growth of paid online content will be hampered by the delivery pipeline. While broadband adoption is growing quickly, many Web users, particularly those in remote areas and overseas, may have trouble receiving the type of high-quality video they desire.
TV Nation
In any case, selling content online likely will not replace the multibillion-dollar contracts the sports leagues ink with network TV stations. "It's a niche and will probably continue to be a niche," Bloom said.
Still, niches sometimes can be quite profitable. NHL Ice, the National Hockey League's online unit, has been in the black for well over a year, according to CFO Kenneth Nova.
"We are not a general interest site, and we recognize that," he told the E-Commerce Times. The site has only recently begun to offer streaming video clips and radio broadcasts, and it does not yet offer pay-per-view packages. In fact, most of the site's revenue comes from merchandise sales. "We have a core group of fans who are going to use the Web to communicate with us and buy from us," Nova added.