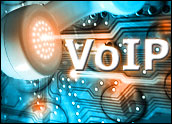 Cable television giant Comcast plans to roll out a Voice over Internet Protocol (VoIP) service to all of its customers by the end of 2005, arriving to the party later than some competitors but bringing with it the type of deep pockets and market reach that could speed adoption of the technology.
Even as companies that were traditionally telephone service providers roll out broadband television service, Comcast becomes the latest company with a cable and Internet service background to eye the soon-to-boom market for telephone calls transmitted over high-speed Internet connections.
Comcast launched its Digital Voice service in three markets — it's home territory of Philadelphia as well as Springfield, Massachusetts, and Indianapolis, Indiana — and said it would be available to all of its 21 million subscribers by year's end.
Higher Price
The service will cost US$40 for cable subscribers and $54 as a stand-alone offering. That makes it as much as twice as expensive as some other options from Vonage and other startups. Comcast said the difference will be sound quality, which it said in a statement would be comparable to traditional phone lines.
Comcast also said it hopes to have 8 million subscribers on Digital Voice within five years. Currently, about 1 million people use VoIP services in the U.S., while there are approximately 112 million telephone lines in service.
Comcast has been testing the service in Philadelphia for several months and said it waited to roll it out further — watching several competitors launch their own versions in the meantime — to ensure it could provide a high quality product to customers.
Leap Year
While VoIP is expected to be a hot technology in 2005, a recent report from the Consumers Union said there are still some drawbacks that could hamper adoption, with sound quality high among them.
Calls might continue to be scratchy, or below the standard consumers have come to expect, until networks can be beefed up, the group said. In addition, with state regulation prohibited recently, it might also be a while before emergency dialing services similar to 911 are in place in all areas.
The competitive battlefield, meanwhile, is shaping up with cable companies in a strong position to capitalize on the VoIP movement, even as telecommunications firms try to nose into the TV-delivery business. For instance, SBC Communications and Verizon are laying the groundwork for more robust television-transmission offerings.
Analysts note that cable companies spent billions upgrading their networks after telecom deregulation brought about the prospect of increased competition.
While most telcos have VoIP offerings, most have relatively small subscriber bases. Vonage is currently the largest such carrier in the country, with around 400,000 users.
A New Playground
Telecom analyst Jeff Kagan said the landscape is still changing, with cable companies and those from telecom backgrounds each bringing their own strengths to the table.
"VoIP is a new playing ground," Kagan said. "Phone companies are well suited to offer the service since they are used to offering voice services, but a well run cable company can do a good job as well after the beginning stages, where some mistakes will be made."
Who emerges as the market leaders will depend less on where a company started out and more on how effectively it breaks into the emerging field. "It will break down on a company by company basis," Kagan added. "The companies that see VoIP as important will do a better job."
Kagan sees a slow and steady period of adoption before VoIP hits the mainstream, with many customers testing it out while keeping their traditional phone service. "VoIP providers will learn from the early adopters and the customers will grow as the years unfold," he said.
Current Analysis senior analyst Brian Washburn, meanwhile, said each time another big-name company enters the market for VoIP, the prospects for the sector brighten further.
It's one thing for a Vonage or a Net2Phone to pitch the service to customers, Washburn said. "When your cable company or your phone company makes the pitch, the average consumer is more likely to listen," he added.