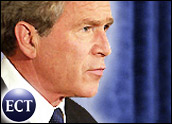 In a possible reaction to hacker concerns, the Bush Administration has blocked at least some foreign visitor access to its official re-election site.
The British Internet traffic analysis company Netcraft reported several locations have not had access to the site since Monday.
A message that reads "You are not authorized to view this page" appears on screen when international users type www.georgewbush.com into their browsers. A service offered by Akamai, called Edgescape, allows site owners to exclude visitors from designated geographies.
"Since Monday morning, requests to GeorgeWBush.com from stations in London, Amsterdam, and Sydney, Australia, have failed, while the four U.S. monitoring stations show no performance problems," said Netcraft analyst Rich Miller. "Web users in Canada report they are able to visit the site."
DoS Attack
Security experts have speculated that the blockade could be a reaction to a possible hacker-related "distributed denial-of-service attack" last week during which the site was unavailable for several hours.
"Last week's simultaneous outages of GeorgeWBush.com and RNC.org prompted speculation that an electronic attack may have occurred, as the two sites are hosted on separate Web servers," Miller said. "The Bush campaign told the media the outage was 'no big deal' and offered no specific explanation…"
Independent security consultant Richard Smith, former chief technology officer at the Privacy Foundation, told the E-Commerce Times that this method of blocking does not appear particularly effective against hacker attacks.
Indeed, there are reports that users can skirt the virtual blockade through anonymous proxy services.
Not Common Practice
Still, Smith said blocking users from a site is not completely unheard of, though not at all common either.
"There are a variety of reasons that Web sites block users," Smith said. "In some cases, financial Web sites block foreign users because they are worried about break-ins from overseas. They figure they don't have any customers over there, so those visitors should not be allowed access."
However, the Bush campaign does have potential "customers" overseas, such as traveling U.S. citizens and military personnel. Netcraft noted sites like Proxify.com or the .mil domain might enable citizens to access the site in these final days before the election.