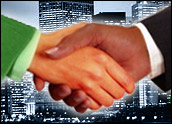 BT Group said Wednesday it would acquire managed security services firm Counterpane Internet Security in a move that could help the former national phone company of the UK advance its transformation into a global telecom services and network firm.
BT did not disclose the price it paid for the privately held Mountain View, Calif.-based Counterpane, but analysts said the deal was likely in the US$20 million to $40 million range.
BT said Counterpane's current customer lists includes 550 networks for major multinational and Fortune 100 customers, for whom Counterpane monitors traffic to keep out various forms of threats, including hacker attacks and viruses.
"As more and more of our customers seek to exploit the opportunities of globalization, we are finding that increasingly business critical applications are dependent upon the resilience and security of their infrastructure," said Andy Green, CEO of BT Global Services.
Green said the increasing sophistication of security threats has prompted many large companies to outsource security management and described Counterpane as a leader in the outsourcing space. He also noted that the deal would greatly strengthen BT's "U.S. capabilities."
British Invasion
BT, which was once a protected monopoly providing phone service to the United Kingdom, has been working to raise its profile as a network and telecom services provider to large, global businesses. In doing so, it has become a competitor to rapidly consolidating, U.S.-based telecoms such as AT&T and Verizon.
All of those companies are eager to capture more customers in the business sector, where higher-value relationships can be built that include network services inside a business as well as long-haul services such as long-distance calling, video conferencing and high-speed Internet connections.
Adding a high-profile security services vendor to the mix could give a boost to BT's efforts to become more of a player in the U.S. itself.
BT said it would keep the current leadership team at seven-year-old Counterpane in place, including founder Bruce Schneier, who will retain his title of chief technology officer, and CEO Paul Stich.
Stich described the deal as "an excellent opportunity for Counterpane's customers and employees." He added: "It is great to see that BT is listening to its customers and acquiring the skills and capabilities in order to fully service their requirements."
Counterpane built a reputation as a smart and innovative company. Schneier is well known in security circles for authoring a widely read book on cryptography. In 2000, the firm teamed with Lloyd's of London to offer hacker insurance to large corporations, a product then seen as the first of its kind.
Risky Business?
In recent months, BT has built a significant presence in the U.S., mainly in the outsourcing of network management. Within the past three weeks, it announced a long-term deal to handle the sprawling communications network for PepsiCo, which spans some 60 countries around the world. BT plans to provide those services in part through a joint venture with Hewlett-Packard.
In the past, most of BT's efforts were focused on global companies with heavy concentrations of operations in the UK. Also this week, BT said it would take over much of the European networking business of Capgemini.
Companies are seeking ways to maximize the value of their networks, with special focus on the convergence between traditional information technology and telecommunications, which seems to create a logical opportunity for telecoms, said Ovum analyst Phil Codling.
"Enterprises are rethinking how and what they outsource when it comes to their networks," he added. "It's as much about where IT and communications converge as anything now."
However, Gartner analyst Craig Baty recently sounded a note of caution when it comes to telecoms reaching into other sectors to buy firms with an eye toward rounding out their portfolios of managed services.
In a research note, Baty said such moves represent a "high-risk strategy" meant to help break the competitive tension between telecoms and more traditional network service providers.