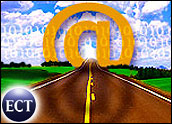 Bronto Software is no dinosaur.
Founded by former Red Hat executives and launched in 2002, the e-mail marketing software provider has certainly seen its industry and marketplace evolve and change dramatically around it.
While questions are often raised about whether e-mail can remain an effective marketing channel given the flood of spam invading consumers' in-boxes and, spending on the channel continues to grow.
Getting Creative to Attract Customers
Bronto entered the e-mail marketing space at a time when a host of vendors had emerged and were splitting the market, said company cofounder and CEO Joe Colopy.
"As a company born out of my spare bedroom, the greatest challenges were developing the product to a competitive level and acquiring customers," he told the E-Commerce Times. "We had very little money so we had to be very creative and capable to acquire customers."
Bronto overcame those hurdles by focusing on developing a product that was both powerful and "exceptionally easy to use" and by offering professional services as well.
"We stick to those tenets and today they continue to pay dividends," said Colopy, who founded Bronto — the firm's symbol is a long-necked dinosaur — along with fellow Red Hat alum Chad Felix.
Another key decision was embracing Google Adwords in 2002. "At the time, it was an very measurable and affordable way to acquire customers, and let us grow despite our smaller size and limited resources."
Durham, North Carolina-based Bronto has undoubtedly benefited from the rise of the on-demand software model as well, with potential customers who once may have shied away from the model no longer considering it a novelty thanks to the success of companies such as Salesforce.com.
Far From Extinct
"Right now, there is a lot of excitement around e-mail marketing and taking it to the next level of sophistication," DJ Waldow, Bronto's client account manager and one of the first five employees at the firm, told the E-Commerce Times.
Waldow credits the fact that companies in the space, such as Constant Contact, are now publicly traded, with raising the profile of the industry. "The marketing community as a whole is realizing that there are techniques and approaches that can raise e-mail to the next level," he added.
A key differentiator for Bronto is the work it has done with its clients, helping to keep them up to date on industry trends and advances.
"Our goal is to make them better marketers," said Waldow, adding that he'll often spend full days with customers, going over campaigns to discuss what worked well and what could be improved.
The level of sophistication among even smaller and medium-sized e-tailers has risen sharply in recent months. Bronto works to be viewed as a thought-leader and participant in the larger discussion around e-mail marketing, using blogs to interact with customers, many of whom are marketing departments that are eagerly learning about the emerging trends within e-mail.
E-Tail Focus
Marketers are certainly aware of the risks that "in-box clutter" pose and the increasing need to find ways to stand out, Amy Black, the president of interactive marketing firm DigitalFX, told the E-Commerce Times.
"E-mails are commonplace, and unless something makes them stand out, they're often ignored, if not outright dreaded by recipients," said Black, whose firm employs a combination of video e-mail and an element of social networking to help businesses get their messages noticed. "Something has to make them stand out from the dozens of other messages that arrive in an inbox on any given day."
While the debate over the effectiveness of e-mail marketing in general continues, one area where it has proven effective and where investment in the channel is expected to remain strong as a result in within e-commerce.
Ninety-two percent of merchants use e-mail to market to their own customers and of those, 93 percent said they planned to make that channel a higher priority this year, according to the "The State of Online Retailing 2008" report from Shop.org and Forrester Research.
The report also suggests where that marketing may be headed — many merchants said campaigns in which personalized e-mail messages were sent were more effective, and nearly three-fourths of the merchants said tailoring messages based on past buying behavior of customers is a "very effective" approach.
That kind of retention marketing is where e-mail can be especially effective. Such messages are more likely to be opened and read because of the consumer's existing relationship with the merchant. For Web merchants — who can bring a past customer back to their site with just a single click on a well-crafted, targeted and timed e-mail message — it can be especially powerful, argued Waldow.
Continuing to Evolve
Indeed, while e-mail marketing still works — especially when the cost and return on investment is taken into account — customers are increasingly demanding that ads be relevant, said eMarketer analyst David Hallerman. He noted that recent consumer surveys showed that half of online buyers had made purchased based on e-mail marketing.
That may mean being timed perfectly for a buyer or that the message contains a compelling offer, Hallerman told the E-Commerce Times. Because what merchants think is relevant and what a consumer finds relevant may be different things, tracking campaigns to see what triggers purchases — and what trigger high levels of opt-outs — is an important part of any e-mail marketing program.
Today's e-mail marketing landscape continues to evolve, Bronto's Colopy said, with less attention on the e-mail and more on the marketing part of the equation. Spam awareness has also driven marketers to embrace solutions that address those issues positively.
"These challenges have led more marketers to move from in-house solutions to e-mail service providers to pull from their expertise to increase their in-box deliverability for their e-mail marketing campaigns," he added.