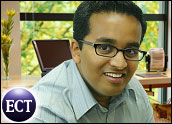 In the competitive world of the Internet circa 2006, text is getting plenty of company. In addition to other forms of content that are crowding the printed word, the Internet is rapidly becoming populated with video — from viral-style clips and home movies to classic TV reruns.
It's rare to see more than a few days pass without a video-related announcement from a major Web player.Yahoo, AOL and Google all are offering new ways for users to upload, find and watch video.
The major Web players also are honing their video search tools. AOL has technology purchased from Singingfish. Yahoo acquired strong video search tools when it scooped up the remnants of AltaVista's search business long ago. Google and Microsoft are largely building their own video search tools from scratch — but no one is counting them out.
Amid all that activity, the founder ofBlinkxTV, one of the oldest video-search tools on the Web, expresses optimism about the way the market is changing, with trends helping to support his firm's business and technology model.
Before Its Time
Blinkx launched late in 2004, when Web video was an idea whose time had yet to come. Fast forward 18 months and the proliferation of broadband and other technological advances has made the Web far more hospitable for bandwidth-hogging video to co-exist alongside text and data.
The range of video online — from video podcasts to viral videos and Hollywood-produced content whose owners have long been itching for a more direct distribution model — seems to call out for a more effective search tool. How people will find and use video on the Web is still being sorted out. Will there be video channels like there are on TV? Will people go to portals to watch video? Or will users continue build their own channels through Web searches?
Blinkx founder and CTO Suranga Chandratillake spoke with the E-Commerce Times about how Blinkx is different from the other video search tools on the Web, what the future of online video might look like, and how his company is quietly positioning itself to be a major player in that future.
E-Commerce Times: Some say the rush to establish online video services today is reminiscent of the first dot-com rush. Does that make a shakeout inevitable?
Suranga Chandratillake: We're reliving what happened with the Web 10 years ago. To start off with there's nothing here, and it's all about how to get content on the Web. It starts with people creating their own stuff or others who already own content saying OK, we're going to digitize what we do and put that online. Next thing you know, all this content is live, but it's not all in one place where you can go and easily find it. And users being users, [they] will want to watch different things at different times.
Video on the Web is quite a messy place right now. Look at a lot of sites getting interest and you see that we're finally realizing the potential that people have talked about for a long time, that once the Internet gets fast enough and storage cheap enough it will become possible to use the Internet as a delivery vehicle for video of all types. That's great — it's something we've talked about for a while. When we launched in December of 2004, at the time, the first question from everyone was, 'Is there enough content to justify this?'
ECT: That's certainly changed. Now everyone's crashing the party.
Chandratillake: What we've noticed, though, for a lot of the players, big and small, they're viewing video on the Web a bit like people viewed text in the early days — where it was all about having stuff on your site, having people come and watch it. Everybody wants to build a walled garden or a silo where people come in and stay and watch video. We think that just like with Web content, there will be big, strong, powerful end-distribution points — but also big, broad search tools that will be needed because people will want different things. One user might say, "Tell me about the U.S. trade deficit in a video," and the next might want to see a video of a skateboarding dog. We can take them to that — wherever it might be live on the Web.
ECT: What is the technological edge that BlinkxTV has?
Chandratillake: When we first set up the company, we basically looked at the problem and said, "What have people tried before, and what will work and won't work?" AltaVista had a video search engine a long time ago, but otherwise, the majority of the searches were based on using the text associated with closed captioning.
That's fine, but there's not that much closed captioning content on the Web. There's some, but it's limited. With Blinkx, we use those two approaches where possible, but we also use other technology to try to understand the video and audio itself. We use speech recognition, and we also use visual analysis techniques that take a longer clip and break it up into smaller clips that make more sense based on scene changes, where each one might have a different background.
We're also working on technology that recognizes faces. We're all about technology that can really understand what's going on in the video. We also don't just spider the Web, but we strike up content agreements so that users can get news feeds from Reuters or content from HBO and MTV, and viral video through sites such as YouTube. Through spidering and partnerships, we've built up the single largest index of video content — and our aim is to bring that to people through the simple search box that they're familiar with.
ECT: From the results, then, the user might be brought to a third-party site to watch the video they're looking for? You're less concerned about where they view the video than your competitors, right?
Chandratillake: Our model is very similar to Web search engines today. You get back a whole bunch of results from all different sources, and we work to figure out which results are relevant, which is most relevant — and show you why we think it's the most relevant. You even get to see it before you see it, so to speak, so you can decide whether to click through.
ECT: And, like traditional search, your business is supported by advertising?
Chandratillake: That's part of it. We actually have an interesting arrangement where some of our content partners let us embed and play video on our own site, so that with your results you get a little TV in the corner of the page that could start playing content related to your search. It's like a TV channel, and there's advertising possibilities there. The second part of our business model is that we're able to distribute our search service to other sites and portals, so that they can put a video search box on their site. We offer that through a revenue share where we get a piece of whatever advertising they sell around that.
ECT: So you aren't nervous about the Yahoos and Googles of the world?
Chandratillake: There's two things — strategy and technology. Technology-wise, what we do is difficult, but of course Google and Microsoft have a lot of resources and some very smart people and a lot of intent, so you never know how big your technological window is.
Still, nobody else really has the speech recognition and related technology like we do. We have the ability to listen to everything — from a Texas podcaster talking about immigration to a Scottish news report on the BBC talking about whatever the big news in Scotland is these days. It's a complex technological problem to be able to cover that range, and from that point of view we're in a good place.
The commercial angle is also interesting. The big players — AOL, Google and Yahoo — they're all very interested in looking at video as a way to build more of a portal presence for themselves. It's a great way to have a bunch of content on the site, have people come to and stay on the site, and maybe, best of all, spend money on the site. They see video as way to do that. So they're all focused on building destination sites.
ECT: There seems to be a movement toward creating more of a TV-like environment, with many of the portals offering categories and channels for users to move within. Is that the model you see emerging as well?
Chandratillake: There is a programming concept that exists on TV that doesn't exist on the Web. Think about the way we use Web search. It's much more relaxed in structure. Everyone sees the same first page when they go to Google, but then I search for one thing and you search for something else and our second pages and every page after that are completely different.
The TV experience is relevant because people crave a shared, passive programming experience. We say let them create that for themselves — a lot will get created by community itself because our channels will span different sources. If interested in skiing in northern California, a viewer should be able to watch whatever's relevant, whether it's a viral video, someone's home skiing movies or a documentary.
ECT: Even if you enjoy superior technology, isn't getting people to your site another challenge? How are you going to make sure people find Blinkx?
Chandratillake: We're a startup, so funding is somewhat limited, so it's not like we can go out and spend a lot on TV ads. Right now, a lot of our traffic comes from word of mouth and people using our site and enjoying it, and referring their friends.
At the moment, we're heavily pursuing distribution to third-party sites. Since the second quarter, we've had a business development team selling the concept to third parties: "Why not have a video search box on your site?" There are a lot of portals who don't have much in the way of video when you start to consider all the second, third and fourth tier sites beneath the big three or four portals. They also don't have the technology, know-how or motivation to build their own.
There's a few happening already that we'll be announcing over the next few months. They'll allow us to generate revenue. And the good thing about it is that it will be clear we're providing the search. Everything will be attributed to Blinkx, so that will help grow the community over time.
ECT: If your technology is ahead of the big search companies, might one of them be interested in acquiring you one day?
Chandratillake: That's a hard question. I'm sure that we've certainly gained interest from others, but it's hard for a pure search company to buy another pure search company, so I don't know how likely we'd be to get interest from that quarter. But one of the interesting things that's happening is the Web is becoming the latest frontier of battle for media companies.
If you look at the history of media companies, they've always wanted to control, yet failed to control, the distribution channel — either for regulatory or legal or technology reasons. They all see the Internet as a big chance to control distribution. They can either hand it over to the big portals, have people go there to watch it, or build a spot for people to do that themselves. Gateways like search engines are a great thing to build a portal around, so that could be an interesting direction for us.