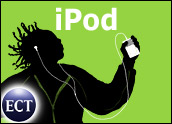 Hoping to lay claim to search dominance in a fast-growing area, Blinkx has launched a tool that will search personal-radio-style podcasts and video blogs for certain content.
Blinkx said its upgrades make podcasts and video blogs "fully searchable for the first time," and let users search thousands of hours of content.
The service is similar to the Google Video search in that Blinkx is inviting Web users to upload content to its service. However, the service also continually searches for podcast and blog content generally available on the Internet. A podcast is similar to a radio show but is presented through a download from the Internet to be played on an iPod or other music player.
In the Lead
The tool uses voice recognition software to transcribe audio and video content and then searches those transcripts for specific keywords entered by users.
Blinkx made no secret that it felt its approach was superior to those from the major search engines. In addition to Google, Yahoo has rolled out a video search function.
"The volume of rich media content online continues to explode, but traditional search engines such as Google and Yahoo were developed for text-based keyword searches, not for audio or video content," Blinkx founder Suranga Chandratillake said. "The prevalence of broadband and multimedia is driving demand for next generation search capabilities, and Blinkx is the only technology that can offer this to Web users."
Blinkx offers many of the same search functions as the major U.S. players, offering Web and news search from its Web site and also downloadable toolbars that extend search functions to the desktop.
While rivals have developed video search, Blinkx appears to be in the lead in the quest for a podcasting search tool. That could be significant given the rapid emergence of podcasting, the radio-style equivalent of blogging.
Building the Audience
Podcasting has roared onto the scene and has attracted the attention of everyone from Apple, whose latest version of the iPod software includes a directory of podcast shows and who launched a podcast download shop within the iTunes Music Store, to Sirius, which has announced it would produce a show for distribution over its satellite network highlighting podcast content.
However, many podcasts still draw meager audiences, but analysts say having a strong search tool could help accelerate the advancement of podcasting by making it easier for consumers to hone in on content that is of interest to them.
Most podcasts currently build audiences organically now, with word of mouth or references through blogs or other Web sites. Several companies have sprung up to catalog or index podcasts, including Podcast.net and Podcast Alley.
However, analysts say by its nature, podcast content is difficult to handle through a directory approach, especially given that thousands of podcasts are created each day. Blinkx said it monitors, indexes and translates some 500 hours of podcasts each day.
In addition, some users might want to listen to a certain portion of a podcast or a single show rather than an ongoing stream.
Rapidly Changing Landscape
Apple's arrival onto the podcast scene was seen as a major development, since it has the potential to use its existing and new technology to make it easier to both create and hear podcasts.
Jupiter Research analyst Michael Gartenberg told the E-Commerce Times that Apple has made a major stand on both ends of the podcast equation with its iTunes upgrade.
"In short Apple's done for podcasting the same thing they did with RSS in Tiger," Gartenberg said. "They made it usable by the mass markets and at the same time, they have what is going to be the most widely used podcasting client on both Macintosh and Windows, and that will make their directory the one to be listed in."
Most analysts see room for both directories and search. For instance, users who want to hear entire podcasts or subscribe to them on an ongoing basis will use directories while users searching for specific audio clips will turn to search tools.