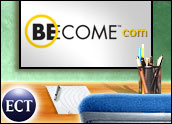 Become.com is vying to become the next mySimon.com. That's either fitting or ironic, seeing as Michael Yang and Yeogirl Yun, the team behind online comparison shopping pioneer mySimon.com, are Become.com's founders.
The site officially went live last week, indexes over 2.2 billion pages of shopping-related information from over 20 million Web sites and uses proprietary ranking technology AIR (Affinity Index Ranking) to deliver targeted and relevant information for shopping searches.
"We launched this site because we felt that current search engines did not provide shopping research information due to inherent limitations in their ranking algorithm that produced irrelevant and biased information for shopping search," Become.com co-founder Yang told the E-Commerce Times. "We believed that we could provide a better search engine for shopping that will help people make ideal buying decisions."
Becoming the Next Google
Since officially announcing the availability of a beta program on its new online search engine, Become.com has been getting a lot of media buzz. That's because the company has been taking calculated steps towards its goal to become a premier player in search.
In late March, Become.com announced it had wooed search engine expert and Yahoo's head of product management Jon Glick to its camp as Senior Director of Product Search and Comparison Shopping. Glick was an instrumental part of the team that launched Yahoo!'s in-house Web search in 2004, displacing Google.
"While search has improved significantly, both the core technology of link analysis and the user interface haven't changed much since Google launched in the late '90s," Glick said. "Become.com has the ability to revolutionize both."
Could Become.com become the next Google? It's far too early for Yang and Yun to proclaim victory. But analysts said there is room for a site like Become.com, even in a cut-throat search engine landscape.
Finding Its Niche
"Google says it has indexed 8 billion documents," Jason Dowdell, who operates MarketingShift, a blog focused on media research and technology, told the E-Commerce Times. "But Google doesn't have an interface that allows someone who is looking for dog shoes to gather all related sites in a single interface."
That vertical indexing, said Dowdell, is Become.com's niche. Since shopping is an especially hot niche on the Web (as evidenced by last year's record-breaking online holiday shopping season) Become.com may find itself in the right place at the right time when winter rolls back around.
John Battelle, who edits the widely read Searchblog, told the E-Commerce Times that there's no doubt Yang and Yun are a strong pair of entrepreneurs with a track record for search success, but that doesn't mean they are immune to the chicken-and-egg syndrome.
"Become.com has a good as shot as anybody, but that doesn't mean an awful lot," Battelle said. "The most scarce resource in search right now is good traffic. It's hard to get people to start using a new site and tell their friends about it so that it takes traffic away from another search engine."
Up for the Challenge
Yun told the E-Commerce Times that the company's main challenge is that people are accustomed to using their favorite search engines so they may be reluctant to give Become.com a chance. But the dynamic search duo has a plan to make Become.com stand out amid the competition: focusing exclusively on shopping research.
"We are trying to deliver much better search experience for shopping," Yun said. "Also, we will be adding a comparison shopping service mid-year that will provide the best integrated shopping search and comparison shopping service."
Become.com, however, is not alone. Four Ask Jeeves alumni are right on Yang and Yun's heals with the impending launch of BrilliantShopper.com, which offers a similar and its own proprietary technology that includes product reviews, coupon search and customizable results.
Smaller skirmishes, say industry analysts, could arise between these and other comparison shopping sites before the holiday season comes around this year. That means vertical search is likely to help keep the fires stoked in the search engine wars for some time to come.