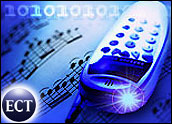 Amid controversy over digital download music prices, an Anglo-Italian band is making its own headlines — and a bit of history — by releasing Britain's first "mobile only" single.
Planet Funk will release the single "Stop Me" on May 8 over mobile media company 3's network. Planet Funk is hopping on a bandwagon of musical artists using new media like the Internet to build a fan base before launching major promotional efforts.
So-called "blog bands" like Nizlopi and Arctic Monkeys both had number one hits by leveraging the power of the Web. Planet Funk also found success releasing the single on 3's sister music service in Italy. The track will now be available exclusively to 3's 3.5 million customers in the UK.
"Releasing 'Stop Me' on 3 makes perfect sense for us. People's musical habits are changing and millions of people now effectively have a record shop in their pocket 24 hours a day. We know that 3's customers are huge music fans and releasing 'Stop Me' solely on their network opens up our music to a whole new audience of over 3.5 million people in the UK," said Alex Neri of Planet Funk.
Targeting Impulse Buyers
3 will be mounting a marketing campaign with strategies that include a dedicated microsite offering information on the band, competitions and free downloads. The track will also be seeded as a free dial-tune available to 3 customers, so anyone calling them will hear the track while they are waiting for the phone to be answered.
"Mobile is a great way to reach impulsive consumers who want to buy and listen to music wherever they are. We understand this, having sold over 16 million music downloads — and we believe it should be open to anyone and everyone," said Graeme Oxby, 3's marketing director.
Dual-Downloads
Planet Funk fans can download the full-length audio track to both their mobile and PC with one single purchase in what 3 calls a "dual-download" system. The "Stop Me" video, featuring iconic robot Alphio, and behind-the-scenes footage into the making of the music promo will also be available.
This dual-download strategy is one that carriers have adopted and twisted around to look similar to Apple's iTunes Music Store paradigm, according to In-Stat Principal Analyst David Chamberlain.
"This [promotion] points out 3's ability to do full track downloads versus just ringtones. It gives customers an idea of what the other multimedia capabilities are," Chamberlain told the E-Commerce Times, noting that customers won't complain about the price of the dual-download.
Tapping Revenues?
The Planet Funk promotion in the UK market comes as 3 celebrates its millionth audio track download in just four months since the launch of the service. With average sales of over 200,000 tracks per month, 3's audio service has made up over 53 percent of mobile track downloads since the start of 2006, according to the Official Charts Company (OCC), the body responsible for compiling the UK charts. Its figures also show that 3's audio sales already account for 3.7 percent of the combined singles chart and 7.5 percent of the download chart this year.
Could 3 tap into a new revenue stream with its mobile-only strategy? It's a possibility. Still, while the idea of over the air full track downloads has caught on in the U.S. and Japan, it has seen slower adoption in other parts of the world. If 3 pushes the mobile only strategy too far, however, it could backfire.
"If the carriers are trying to ensure that every song from one of their handsets goes over their wireless network they could bring this whole music phone concept to a screeching halt, but this sort of promotion serves an immediate need," Chamberlain said, noting that it could train people to download music from mobile phones in much the same way that Solitaire trained Windows users how to use a mouse.