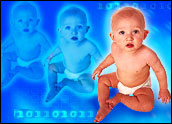 The Christmas shopping season may be officially over — but online shopping continues to flourish with consumers still scrambling to buy iPods, XBox 360s, DVDs and baby cribs and strollers. Cribs and strollers?
The Shopping.com Consumer Demand Index (CDI) for the period of December 26, 2005 to January 8, 2006 indicates that indeed, online searches for baby cribs increased by 86 percent during the reporting period.
A spokesperson from Shopping.com said that for the third year in a row, Shopping.com's CDI shows that January is when thoughts turn to the new year and "the new arrival."
Motherhood on the Brain
With the economy in growth mode, consumers are turning toward maternity as a primary focus. Multiple births — e.g. twins or triplets — are on the rise too, apparently.
Consumers are searching for an array of cribs online, such as traditional slatted wood and iron canopy styles to co-sleepers and bassinets. Safety standards have drastically changed — for the better — so online merchants are offering enhanced product descriptions and consumer reviews written by other new parents.
Shopping.com's top ten brands and models searched for this period highlights strollers, according to site officials, with the Maclaren Twin Traveller and Peg Perego Triplette brands topping the stroller category for the first time.
Luxury Goods Online
These products are the luxury goods of the baby products niche, featuring extra leg room, built-in umbrellas and fleece bunting bags for those cold winter days.
A variety of economic statistics indicate increasing consumer confidence in the United States. For example, the Conference Board's Consumer Confidence Index rose to 103.6 in December, the highest since before Hurricanes Rita and Katrina struck. The University Of Michigan's Consumer Sentiment Index rose to 91.5 in December, up from 81.6 in November, 2005.
Though online holiday sales received most of the hype this past year, it was a fantastic 12 months overall for products online, as sales over the Internet soared by 25 percent over 2004, according to a report from eMarketer.
The market research firm said online shopping increased in 2005 because baby boomers and young shoppers — many starting families — are becoming more and more familiar with the process.
The research firm also said the increase in the use of broadband in U.S. homes played an important factor. New York-based eMarketer said 60 percent of Internet users in 2005 went online via a high-speed connection.