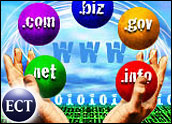 As the Internet Corporation for Assigned Names and Numbers is making news this week with the debut of new industry- and country-specific Top Level Domain extensions, the overall market for domain names continues to burgeon dramatically, pointing to continual, solid growth in the global Internet economy.
Last year saw significant growth across the domain name market, according to data analysis conducted by Sedo, an online marketplace for the buying and selling of secondary domain names.
Sedo's review of data from more than 25,000 domain sales demonstrated significantly increased interest in and value derived from domain names. Between 2004 and 2005, the volume of reported domain sales grew by 58 percent, to more than US$60 million.
During that time frame, the number of domains sold increased dramatically by 75 percent — from 9,000 to more than 16,000 domains sold, Sedo said.
Banner Year
"Last year was a significant year for the domain name market, from new top level domains approved and put into circulation to the heightened role of domain parking services to drive quality Web traffic," Matt Bentley, chief strategy officer for Sedo, told the E-Commerce Times.
"The significant increase in sales volume — $60 million — and domains sold on the secondary market in 2005 — more than 16,000 — illustrates how valuable domain names can be, and that people are trying to improve their online presence," he added.
This is for both personal and business reasons, Bentley noted. In addition, the study determined the following:
Between 2004 and 2005, the volume of domain sales grew by 58 percent to more than $60 million;
Between 2004 and 2005, the number of domain names sold increased 75 percent, from 9,000 to more than 16,000;
Sedo increased its market share of premium domain sales ($5,000 and up) from 59 percent in 2004 to 65 percent in 2005.
More and more premium domains were sold through organized platforms with volume nearly doubling to nearly $18 million, while the volume of private sales reported remained flat at approximately $6 million, according to Sedo.
Additionally, due to a massive increase in the volume of low-end — under $500 — transactions, the average price actually decreased from 2004 to 2005, but anecdotal evidence suggests that buyers got less domain for their money.
Flipping Popular
Research shows that "flipping" domains proved to be a sound investment. In a study of 37 domains that were sold twice during 2004 and 2005, the average domain gained 288 percent in value in just 230 days, demonstrating a significant return on domain investment.
"The domain name market continues to evolve and drive greater value each year, whether for owners of comprehensive domain portfolios, businesses driving quality traffic to their Web sites, or for hobbyists," Ron Jackson, editor of DN Journal, a trade publication, told the E-Commerce Times. "The analysis completed by Sedo shows the growing role of organized platforms for domain sales and the growth of the overall domain market. With these numbers as early indicators, 2006 looks to be another growth year for the market."
Cambridge, Mass.-based Sedo, whose name is an acronym for "Search Engine for Domain Offers," is an online marketplace for buying and selling domain names and Web sites.
The news about the spectacular growth of domain names comes as ICANN, the standards body that monitors the Internet addressing system, begins testing Arabic, Chinese and other non-Roman characters in domain names.
The Internet presently runs on an ASCII system — with 26 letters of the alphabet, 10 numerals and a hyphen. However, people in Asian and Arabic countries, whose languages can contain thousands of characters, have been applying pressure to ICANN to include their native scripts in Web addresses.
ICANN said there is a need to continue supporting multilingual access to the Internet. "One challenge in implementing multilingualism on the Internet is the preparation of content in the numerous languages, alphabets, scripts and character-sets that must be accommodated," the organization stated.