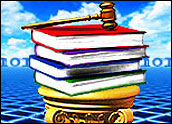 After months of complaints that its Google Library effort constituted a violation of copyright law, Google has been sued by a leading writer's association and three writers who claim that the search giant is infringing on the works of thousands of individual writers.
The Authors Guild and three individual writers — a biographer of Abraham Lincoln, a children's book author, and a former Poet Laureate of the United States — filed a class action suit in federal court in Manhattan. The suit alleges that Google Library constitutes a "massive copyright infringement at the expense of the rights of individual writers."
Growing Criticism
"This is a plain and brazen violation of copyright law," said Authors Guild President Nick Taylor. "It's not up to Google or anyone other than the authors, the rightful owners of these copyrights, to decide whether and how their works will be copied."
The suit seeks an immediate injunction against the service.
Though initially hailed by many as a groundbreaking effort to democratize knowledge though the power of the Internet, Google Library — which seeks to digitize and make available online major libraries including the New York Public Libraries and collections at the University of Michigan, Harvard, Stanford and Oxford universities — has been battered by various publishing and writers' groups in recent months.
Google tried to assuage some concerns by temporarily suspending the digital scanning of books that are not in the public domain, that is books that still have valid copyrights. But Google's offer of an opt-out program, in which it would resume scanning books unless the copyright holders specifically asked Google not to do so, has also been attacked by publishers.
The Authors Guild suit is the first actual legal action against the program, however. By seeking to have the complaint recognized as a class action, the Guild leaves open the possibility that other publishing groups and thousands of individual writers could join the case.
Dueling Opinions
The individual plaintiffs are Herbert Mitgang, a former New York Times editorial writer and book author; children's book author Betty Miles; and Daniel Hoffman, who served as U.S. Poet Laureate in the early 1970s.
Google did not immediately respond to requests for comment on the suit. But on the official Google blog, Vice President of Product Management Susan Wojcicki said the service could actually help book sales, especially since it will index books that are long out of print and may have dropped off the radar screens of consumers.
"Many of Google Print's chief beneficiaries will be authors whose backlist, out of print and lightly marketed new titles will be suggested to countless readers who wouldn't have found them otherwise," Wojcicki wrote.
She also said that Google won't show "even a single page" of books that are copyrighted unless they have permission to do so. Instead, it will present a brief excerpt and links to libraries and booksellers where the tome is available.
"Google respects copyright," she added. "This ability to introduce millions of users to millions of titles can only expand the market for authors' books, which is precisely what copyright law is intended to foster."
'One to Watch'
Search Engine Watch editor Danny Sullivan said there are a slew of arguments and counter-arguments, including the fact that Google has arguably been infringing in the past by indexing some publishers' Web sites, without complaint from those publishers — possibly because being able to be found through Web search helped sell books.
Sullivan said Google may at some point be prompted to curtail what it shows in the print search to eliminate all book excerpts in favor of showing only title and bibliographic information.
Forrester analyst Charlene Li said the reversal of fortune surrounding Google Print has been dramatic, since early response was to laud Google for such an ambitious undertaking, one that it will spend millions of dollars and several years working on. "They must believe it is important to the big picture to invest that kind of resources," she added.
Meanwhile, analysts said the case could be a lynchpin for Google's efforts not just with the Google Print and Library efforts but also as it relates to other copyright issues that have dogged the search engine and the search industry in general.
"This will certainly be one to watch," said search expert and Google book author John Battelle.