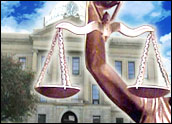 An adult publisher that has sued Google and Amazon for copyright infringement is now pressing for an injunction to stop the companies from linking to unauthorized copies of its soft-porn images.
Perfect 10 has asked a court to set a Nov. 7 date for a hearing on its request for preliminary injunctions to stop both Google and Amazon's A9 search engine from providing thumbnail images and links in their search results to third party sites that contain unauthorized copies of Perfect 10 images.
Giving It Away
"They are giving away exactly what we are selling," said Perfect 10 founder Norm Zada. "There is no business that can survive if someone comes along and gives away their product. Google's extraordinary gain in market cap from nothing a few years ago to close to eighty billion dollars, is more due to their massive misappropriation of intellectual property than anything else."
Zada, who founded Perfect 10 in print form in 1997, said some 3,000 of its copyrighted images are returned in Google search results and that the vast majority of them — in some cases up to 96 percent — do not link to the Perfect10.com site but to other Web pages where the sites can be downloaded. He said that Google appears to be earning revenue from the sites because many contain contextual ads.
Google "is a commercial advertising operation determined to increase ad revenue regardless of what rights it tramples on in the process," said Zada, who noted that he is a former UCLA and Stanford professor and a onetime computer researcher at IBM.
A spokesman for Google said the company believed the suit had "no merit" and added: "We will defend ourselves against it vigorously."
Beyond Porn
Though the case has gotten headlines because of the subject matter involved, the issue of search companies linking to copyrighted material is not a new one. In fact, Google has found itself facing several copyright infringement cases because of its search and paid search programs.
Google has run into copyright objections with its Google Print effort, which seeks to digitize library collections and make them searchable online. Google recently said it would stop including copyright-protected works and focus its efforts on works in the public domain.
The Google News product has likewise been hit with copyright infringement claims. Agence France-Presse (AFP) recently sued Google, seeking damages of at least US$17.5 million, saying Google is using the News product to enrich itself with paid ads.
For his part, Zada said other traditional publishers should be worried about Google using the search function defense. "If all an infringer needs to avoid liability is to provide some sort of a 'search function,' that will be the end of intellectual property in this country," he said.
Among the lawyers working with Zada is Russell Frackman, an attorney who represented the record labels in the MGM vs. Grokster suit, which reached the U.S. Supreme Court.
Google a Target
Google has also faced other lawsuits in recent months, including allegations that it overcharged some customers of its AdWords program by not honoring a cap on daily costs.
Attorneys and analysts say lawsuits come with the territory for Google, especially given its meteoric rise to the top of the Internet industry food chain.
"Google is taking a lot of hits to its image as a benevolent spreader of new and better technology," Forrester Research analyst Charlene Li told the E-Commerce Times. "In some ways, its success has made people scrutinize what it does much more closely."