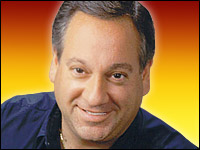 Which wireless provider is doing the best job? Listening to them gets confusing. It's like me saying that I am the slimmest, healthiest and best-looking wireless analyst on this airplane (I'm flying to the west coast to give a speech). Now that line has as much truth in it as a load of horse manure — but technically, since I am the only wireless analyst on this plane, I guess it is true. Listening to the major wireless providers strut their stuff is much like that — and that is the problem we have to solve.
Every wireless provider claims to be No. 1 in something. The result is that the consumer is confused. That is the whole point, I think. Keep customers confused so they can't buy based on anything real. That way only the warm and fuzzy messages of advertising, public relations and marketing will convince them to buy.
This is a dangerous path to go down. We should think this through and decide if this is really the path we want to be on.
In that unreal world, every carrier looks like it is No. 1 in something. There used to be comparisons of subscriber numbers. That gave us a simple list of the No. 1, 2, 3 and 4 wireless carriers. Since this is what we wanted to know, it worked.
We're All No. 1!
However, things have been changing. Carriers seem not to be satisfied being anywhere other than No. 1. In addition, as wireless data and tablet computers enter the space, the term "subscriber" can mean different things. If carriers simply told us their number in the same areas, we could easily compare. Unfortunately, they don't.
The wireless industry is moving away from a world of telling the truth to a world of each company telling a version of the truth that makes it sound better. This clouds the industry and makes a simple decision very complicated.
Wireless voice and wireless data are becoming two different areas to follow. So are prepaid and postpaid. There are also individual customers, family plans and those on corporate plans. Oh, and don't forget all the wholesale customers. Getting the point?
Should an Apple iPad user on AT&T Mobility count the same as a voice-only customer on Sprint Nextel or a Droid user on Verizon Wireless? Mixing and matching all these new areas makes all this confusion very obvious. However, customers and investors don't have a clue who is really No. 1 in any particular area.
One example is when both carriers announced their numbers last week. Over the last several years, AT&T Mobility had the lead in subscribers and was happy to tell the world. However, Verizon Wireless recently made an acquisition and now holds the No. 1 spot. The problem is that AT&T got used to saying it was No. 1. Not being able to say that anymore must have felt like withdrawal.
Not to worry. There is a solution at hand. Not wanting to sound like it has fallen behind Verizon, AT&T quietly changed the metric it reported. That's the problem.
New Math
Suddenly, instead of just counting wireless phone users, AT&T started counting users of all wireless connections — people using things like iPads, laptops with built-in WiFi, and anything else it could lump together.
So, when reporting its quarterly numbers, AT&T claimed it had 2.8 million net adds in Q4. It wanted the world to think it was ahead. AT&T decided to count 95.5 million subscribers.
Does this mean it is ahead of Verizon once again? Not really. AT&T is getting the benefit of confusing the marketplace.
The problem is that Verizon reported its numbers a day or two earlier, saying its Q4 adds were fewer than 1 million, and its total was 94.1 million.
Sounds like AT&T is winning, doesn't it? The truth is, if Verizon counted the way AT&T counted, it would add 8.1 million "other connections" to the 94.1 million wireless subscribers for a total of 102.2 million.
So when you compare AT&T to Verizon, apples to apples, AT&T has 95.5 million subscribers and Verizon has 102.2 million. That is the truth.
Things look much different when you blow the fog of confusion away, don't they?
No matter how AT&T tries to spin the truth, Verizon Wireless still leads in today's wireless marketplace if you compare apples to apples.
Marketing Madness
This is an example of marketing hype spinning out of control. There has to be truth in marketing and advertising, or it will increasingly be ignored. Meaningless. Not truth, just a jingle.
Is that what we really want? Companies need advertising and marketing to tell the marketplace about their offerings and compete. Buyers also need it to help them choose. There is a real and honest need for creative and truthful marketing. When done with truth, everyone wins.
The problem is that when words are carefully spun into a web to try and capture every customer, the truth is eventually lost.
The problem is the telling of half-truths in an effort to confuse the marketplace and hope that confusion wins business.
The problem is truth — or lack of it.
Marketing at some companies is starting to spin out of control. Instead of trying to improve themselves, and improve the marketplace and ultimately win more business, some companies are trying to confuse everyone. That does not provide a better experience for customers. This is a very shortsighted approach, isn't it?
Companies can spend years trying to build a relationship with the marketplace, and then can blow it all in the blink of an eye.
The wireless industry had better come up with a consistent standard — one that lets companies compete and that simplifies the buying process for customers. Otherwise, both the customers and the carriers will lose.
Customers will lose because they will not be able to understand the real difference between carriers. The carriers will lose because they will have blown their credibility, and they will not win customers back for a long time.
The industry has to agree to new rules going forward. The customer wins in a clear marketplace, and that is what matters. That is what will keep competitors improving in order to stay competitive and to win. Otherwise, I will be able to keep saying I am the best-looking wireless analyst on this plane and keep getting away with it! And do we really want that?
---
Jeff Kagan
is an E-Commerce Times columnist and industry analyst following wireless, telecom and healthcare technology. He is also an author, speaker and consultant. Email him at
[email protected]
.