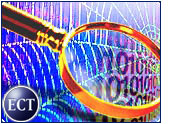 In a bid to hold tight to its search engine market share in the face of fierce competition, Ask Jeeves has launched an upgraded version of its consumer search tool, following the lead of Yahoo, Overture and market leader Google.
The company emphasized the improved speed and accuracy of its Smart Search engine at Ask.com, saying it halves the time required for results to load and includes several features that make the site more intuitive.
Ask Jeeves Web properties president Steve Berkowitz said the launch represents "the beginning of a new direction for Ask Jeeves" and an improvement on search in general. "Search is imperfect because we are asking technology to respond to human input, which is based on the way people think," he said. "We believe great search is a combination of science and art."
Search and Destroy
Although the new search engine relies heavily on technology, it also will pull in results from Ask Jeeves' editorial team, blending hand-selected content and answers with automated responses.
The company said its search engine makes it easier than ever before for users to find pictures and news headlines, because it does not require surfers to select specific tabs to include those items. Other items that Jeeves said have proven popular on its original search site, including clarification tools to refine a search and an automated spell check feature, are on the new site as well.
Searching for Space
Emeryville, California-based Ask Jeeves has had major successes in the enterprise category, selling custom products to help companies facilitate searches of their own databases. But among consumers, Ask Jeeves faces a blitzkrieg of competition. According to rankings from comScore and Nielsen//NetRatings, it usually ranks in the top five, well behind such leaders as Google, Yahoo and MSN.
On the strength of its algorithmic search program, Google has surpassed all other entrants to stake a solid lead as the first choice of Web surfers. The company has leveraged that popularity into revenue by serving up targeted advertising results and related products.
Earlier this month, Yahoo unveiled a slimmed-down, Google-like search product of its own — a clear nod to the threat that Google, which has been a longtime business partner, poses. In fact, Forrester analyst Paul Sonderegger told the E-Commerce Times that in making its move, Yahoo started the latest battle for consumer eyeballs.
"The battle right now is focused on the user experience," he said, though he believes the recent spate of acquisitions and mergers also may indicate a new focus on enterprise search as an increasingly important part of the overall business. And unlike consumer search, where the top five companies are well entrenched, the enterprise market is still wide open, he added.
Changing Stripes
Overall, analysts say search sites have proven among the most adaptable of all dot-com companies, managing to focus on both consumer satisfaction and profit generation at once.
And Yankee Group senior Internet analyst Rob Lancaster told the E-Commerce Times that a rash of consolidation in the sector earlier this year, which saw some US$500 million worth of takeover activity, including Yahoo's purchase of Inktomi and Overture's acquisitions of FAST and AltaVista, points to a changing marketplace.
"The search sites have adapted by dropping banner ads in favor of targeted search," Lancaster said. "They'll have to keep evolving like [that] and keep improving their technology in order to stay relevant long-term."
To make sure its revamped search tool, reportedly in development for a full year, is not ignored by Web surfers, Ask Jeeves plans a major marketing push to remind consumers about the brand and its trusty symbol, the tray-carrying butler Jeeves.
Although the new round of marketing likely will not include television spots, online, radio and print ads are planned.
Ask Jeeves could not be reached for comment at press time.