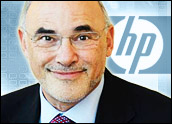 HP's recent Strategy Summit in San Francisco provided a coming-out party for the company's CEO Leo Apotheker before 350-plus IT industry analysts, and he wasted little time setting an agenda. Information, Apotheker said, represents the world's "most valuable commodity," reinforcing HP's plan's to support "seamless, secure, context-aware" information access to connected devices of every kind.
Beyond connected endpoints, HP's strategy also extends across the data center, particularly in solutions and services related to cloud computing. The company will continue to deliver solutions based on traditional enterprise hardware/middleware/software stacks, but Apotheker also described HP's work on the foundation for hybrid cloud environments and service provisioning.
Along with creating cloud solutions for enterprises and service providers (SPs), HP plans to deliver cloud-based offerings hosted from its own data centers.
Adults Are Back in Charge
Apotheker's sunny view of HP's opportunities might strike some as overly optimistic, especially considering the company's trials of the past year. First, HP's high-flying CEO, Mark Hurd, suffered an Icarus-like crash due to personal and professional actions that are the subjects of a shareholder suit and, reportedly, a continuing SEC investigation.
After publicly excoriating HP and its board, longtime partner Larry Ellison hired Hurd to serve as Oracle's new co-president (replacing the departing Charles Phillips after he suffered his own set of public embarrassments).
HP initially challenged Hurd's hiring but eventually came to an agreement with Oracle. However, after the company announced it had chosen former SAP CEO Leo Apotheker as its new president and CEO, Ellison ratcheted up his public lambasting to an incandescent level and attempted to connect Apotheker to litigation Oracle was pursuing against SAP. That case concluded in late November without Apotheker's testimony.
In the months since, Apotheker settled into his new job and sorted out his strategy and plans. In a literal sense, the Strategy Summit was designed to highlight both Apotheker's best qualities and HP's wisdom in hiring him. In that, the event was a success.
Apotheker's measured and mature demeanor, which was also espoused by HP's other attending executives, is the antithesis of Ellison's hyperbolic public theatricality. Bottom line: Professional adults are back in charge at HP, a point that should please company shareholders and help quiet any concerns among its clients.
HP's Strategy – Three POVs
Apotheker's new and upcoming plans, from three points of view:
1. Practicality. Apotheker's strategy around cloud computing seems eminently sensible and workable, taking good advantage of existing HP technologies and services and stretching them a bit for emerging market opportunities. The result should satisfy existing HP customers and offer a stable position for pursuing new clients and business.
2. Innovation. HP will continue in its role as a key Intel and Microsoft partner, and it appears the company will gain value from internal developments. HP executives went on at some length about how home-grown systems, services and application management software figure in the company's cloud plans. HP will also leverage acquisitions including 3Com (networking), 3Par (storage) and Palm (WebOS, etc.) across those new solutions.
3. Vision. HP's vision of cloud computing is in line with most IT vendors, but efforts to incorporate virtually all of its solution and service assets in the cloud is a departure from life under Mark Hurd, who tended to be more compartmentalized in his thinking and strategizing.
Expansive Vision/Significant Barriers
So, HP appears ready to take on any and all comers in the cloud marketplace. Right? Well, not exactly. While Apotheker and company deserve congratulations for an expansive cloud vision, HP faces some significant barriers. Yes, its cloud strategy is in line with virtually all of its serious competitors. Less clear is how HP's solutions are different from or better than other vendors' offerings.
The list of HP's Cloud System differentiators presented by CTO Shane Robison looks like it was taken out of IBM's cloud playbook. And HP's claim that those differentiators (supporting heterogeneous systems, OSes and hypervisors, etc.) somehow make the company's offerings unique is simply silly.
HP seems to be in good shape with its homegrown and acquired solutions, but it seems a bit early to trumpet the success of the costly (US$2.35B) deal for 3Par and the recent Vertica deal. Note to vendors: Any time someone claims that a new and largely untested technology offers its owner a chance to lead the market for a decade (as HP's Ann Livermore said about 3Par), it automatically raises red flags among analysts.
One thing that was oddly flat in HP's presentations was detail regarding its software strategy. HP executives certainly talked up the issue in broad terms during the Q&A sessions — and rightly so, since HP's historical weakness in software was clearly an issue Apotheker was hired to address. Maybe the lack of detail was simply a matter of the company playing its cards close to the vest. Perhaps it has deals in the works that loose lips could potentially sink. At least one hopes so.
HP has a decent selection of systems management tools and applications, but the revenues they drive are a tiny fraction of what rivals regularly enjoy. Additionally, HP's inability to effectively create or nurture a software strategy has left it in an untenably close relationship with a partner-cum-competitor Oracle.
Most important of all, though, is the way IBM and Oracle are leveraging proprietary software to define and differentiate new solutions like systems optimized for business analytics, thus creating the impression that HP is being left behind.
What About Partners?
Apotheker and others execs discussed how HP's strategy would resonate among its partners — a good point, especially since we expect some to be irked by the company's plans. In particular, some SPs will likely see HP's delivery of its own hosted cloud services as a direct threat, even as they have been threatened by similar solutions like Microsoft's Azure.
You can understand HP's interest in this idea — services offer continuing revenue streams that help inure providers against market dips and strategic slips. The problem with that is first, SPs represent a huge business opportunity for cloud vendors; and second, major cloud competitors — notably Dell and VCE — have clearly stated they won't compete directly against SP partners. So if you were a threatened SP, which vendor would you choose as a trusted partner?
Additionally, HP's notion of comprehensive, integrated cloud solutions architected, planned, tested and deployed by the company's services organization sounds great on paper. However, it is likely to leave some value-added resellers (VARs) out in the cold.
HP probably has or will develop a plan to minimize the discomfort of those VARs, but if the market truly does develop as HP and other cloud enthusiasts believe, VARs that consider themselves locked into second rate status and out of lucrative opportunities may look elsewhere for better partnering opportunities.
Summing Up
Overall, HP's Strategy Summit found the company with better leadership and brighter opportunities than it has enjoyed in some time. The market and investors thus far appear unimpressed by Apotheker's nontheatrical management style and his focus on sensible strategies over melodramatic statements. However, I expect Apotheker is considered a blessed relief among HP employees buffeted by the tumult and downsizings that marked Mark Hurd and Carly Fiorina's time at the company.
Apotheker is certainly conservative in tone, at least in public venues, but he is also obviously ambitious — few rise to the top of the IT executive heap in any other way. HP's Strategy Summit proved that Apotheker could craft a logical corporate strategy, describe it in sunny terms and work a room full of professional critics — no mean feat.
Still, the measure of any CEO is determined by successes, not presentation skills, and demonstrated ability to engage directly with competitors and allies alike. At HP, adults are clearly back in charge of things. That's all to the good, but let's see how they do in an IT marketplace that some rivals treat as a boisterous and bloody-minded playground.