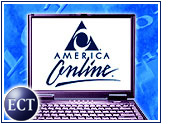 In the latest in a series of moves designed to jump-start revenue growth at its beleaguered but still-dominant online service, AOL has rolled out a service that enables users to receive telephone voice mail in their e-mail inboxes and to hear their e-mail over the phone.
AOL Voicemail, which is being pitched first as a premium upgrade service for existing AOL members — particularly those with dial-up connections — will put AOL in direct competition with many telecommunications providers, which also market voice mail services to customers.
The service is being offered for US$5.95 per month for AOL users. Jeremy Verba, who oversees the voice mail venture for AOL, said the service grew out of the popularity of AOL's call alert system. That system told dial-up users when a caller was trying to reach them and has gained about 300,000 users since being launched last October.
"AOL Voicemail will build on that momentum," Verba said.
Switch Over
But whether or not consumers will embrace the new message options remains to be seen. Whereas AOL has successfully introduced millions of e-mail users to instant messaging, the voice mail option requires a different mindset, IDC analyst Jonathan Gaw told the E-Commerce Times.
"People are used to getting voice mail on their phone and e-mail online," Gaw said. "IM was a different thing, more of a progression than a change. Whether people will want to make this change is a tougher call."
The Big Mo
AOL clearly is trying to build momentum with the announcement, designed as a tease for its broadband upgrade package to be released next week. The menu for that rollout will include streaming video and audio features, plus exclusive content from AOL Time Warner publications such as People and Entertainment Weekly, which will shut down their free public Web sites around the same time. AOL unveiled a streaming music program last month.
AOL also splurged on a high-profile ad campaign said to be worth some $35 million, running a spot featuring actress Sharon Stone during the Academy Awards telecast that focused on the benefits of AOL broadband. The campaign was designed to tap the rapidly expanding broadband market. The number of households with high-speed connections grew 59 percent in 2002, according to data from Nielsen//NetRatings.
Broadband Shortfalls
But although it remains the dominant dial-up online service provider, AOL has failed to carry that dominance into the more profitable broadband arena, despite the apparent advantage of having the Time Warner family of content to leverage. In fact, AOL's own estimates show it expects to lose as many as 1 million members this year, though it still will likely end the year with some 27 million members.
UBS Warburg anlayst Christopher Dixon told the E-Commerce Times that AOL needs to show it can compete with the likes of MSN and others in the battle for broadband users in order to emphasize the long-term upside of its merger with Time Warner.
"The integration has not been a smooth one so far, and if AOL can't grab a significant share of the broadband consumer market, more questions are going to be raised," Dixon said, adding that renewed focus on the AOL product is good news, since it will draw attention away from executive turmoil and ongoing SEC and Justice Department investigations. "AOL has said 2003 would be a year of transitions, and so far that's certainly true."
Voice Mail Me
In addition to targeting busy consumers who do not want to miss important calls, AOL hopes its voice mail option will appeal to businesspeople, especially those who travel or work in remote locations. The company cited its own market research, which showed that 63 percent of people who work from home would prefer to access voice mail through their e-mail programs.
The Voice Mail service also features instant notification of incoming calls, with the ability to send canned responses to callers and a call log that tracks up to 100 incoming phone calls. Voice mails accessed via e-mail also can be forwarded like traditional e-mail messages, AOL said.