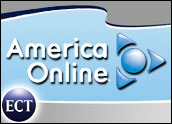 America Online officially launched an upgrade to its flagship messaging product, AOL Instant Messenger yesterday, and unveiled the AIM Triton upgrade as a desktop bundle of communications applications offering a range of other communications services in a single place.
Analysts said the integrated platform could build on the success of AIM, by far the leading messaging program in the U.S., and with the addition of PC-to-PC chat through Voice over Internet Protocol (VoIP) technology, help AOL compete with other all-in-one programs such as Skype.
Triton will include text and voice chat, as well as integration of AIM address books using the Plaxo application, which helps users track contacts with their e-mail and IM addresses and phone numbers. From Triton, AOL users will also have one-click access to the rest of the AOL portal empire, including AOL radio.
AOL billed Triton as a "new front door" to digital communications.
"We rebuilt the AIM service from the ground up," said Chamath Palihapitiya, vice president and general manager for AIM and ICQ, AOL's other messaging platform. "We anticipate that the AIM Triton service will accelerate the growing use of voice, video and desktop-to-mobile messaging across all users."
While AOL has high hopes for the upgrade, early reactions were mixed, with some bloggers questioning why AOL would tinker with AIM, its one clear category dominating application.
Major and Minor Changes
Triton includes a number of relatively minor tweaks. For instance, it makes it easier to attach files to instant messages and comes with an improved anti-spam filter meant to screen out messages from unknown senders. The AIM Buddy List contact database has also been expanded, with a link to an online address book hosted by Plaxo that can hold up to 5,000 contacts.
The update also contains a beta version of a video instant messaging service, a telephony service that can connect to any computer with Web access, and aVoIP service that supports conference calls between up to 20 users, AOL said.
AOL subscribers can download the Triton upgrade, though additional subscriptions to voice and video chat services are necessary to use all of the functions.
Some bloggers were quick to question why AOL would tinker with AIM, its one clear category leading application. Others said the new all-in-one program risked become too bloated with features to appeal to users seeking simply to use IM, though AOL noted that the core messaging platform remains intact.
Main Weapon
Forrester analyst Charlene Li said AOL wisely recognized early in its move away from a walled-in members-only environment to an open Web portal that AIM was one of its strongest weapons in its battle for eyeballs against Yahoo, MSN and Google.
First AOL built its AIM Mail Web mail program to be integrated with the messaging platform, which is the leading IM program in the U.S. and is extremely popular among younger users in particular.
"AIM was the foundation for the move to more of a Web portal," Li said. "It was a good strategy and it's something that AOL hopes to continue to be able to build on."