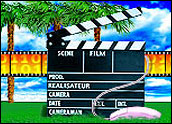 AOL became the latest Internet player to move aggressively into the movie download space Thursday, saying it would make full-length features from a number of Hollywood studios available through the AOL Video portion of its Web portal.
The company said partnerships with 20th Century Fox, Sony Pictures Home Entertainment, Universal Pictures, and Warner Bros. Home Entertainment Group will enable it to offer downloadable movies through the AOL Video site.
No Turning Back
AOL Video has been offering video clips and TV shows — many from the archives of Warner Bros., which is owned, like AOL, by Time Warner — for several months.
Through the portal, users will be able to locate, view and purchase pay-to-own movie content.
For the studios, the ability to access AOL's strong audience is a draw, as is the fact that as part of Time Warner, AOL has a stake in ensuring that their content is safe from piracy.
Taken along with numerous other announcements in the video-on-demand space, the AOL launch underscores the strong push Web-based video is making into the mainstream.
"Viewing online digital content is no longer an esoteric pastime," said Benjamin Feingold, the president of Sony Pictures' digital distribution and acquisitions group. "Online programming services like AOL's video portal have the potential to become a major distribution stream for consumer entertainment and a viable revenue source for Hollywood."
At Long Last
Both new and older releases will be offered, with download prices starting at US$9.99 per film and going as high as $19.99. Movies can be viewed offline and transferred to other PCs and some portable devices.
In some ways, the AOL Video channel is the clearest link yet between AOL and its parent company Time Warner, and a sign of the promising synergies that drove the two companies to merge together at the height of the dot-com movement.
AOL said it would also add more TV shows to its lineup as well, expanding its current menu to include current Fox and FX shows such as "24," "It's Always Sunny in Philadelphia" and "Prison Break," and classics such as "Buffy the Vampire Slayer," and "Hill St. Blues." Two more channels of Sony content will also launch, with an action site featuring hour-long TV shows such as "Charlie's Angels," and "Starsky & Hutch" as well as a comedy channel.
"We'll continue to add more and more high quality branded content to the mix," said Kevin Conroy, Executive Vice President of AOL.
The More the Merrier?
The frenzied pace at which video sites are being rolled out, beefed up and partnered with one another is good news for content consumers, with a nascent price war possibly in the offering after Guba.com said earlier this week it would slash prices for its video downloads for a limited time.
Also in recent weeks, Google struck a deal to distribute MTV Networks content and Sony bought video sharing site Grouper in what could be the start of its own distribution channel.
Such frenzied activity is a reflection of the fact that broadband has reached critical levels and is driving demand for more robust services, said Frost & Sullivan research analyst Piyush Arora.
"As broadband service providers continue to enhance speeds for their subscribers, new opportunities are cropping up in terms of content applications that can be delivered on these fast connections," Arora said.
While movie studios are eager to embrace a new distribution channel — one that could unlock sales of its older catalog of movies as well as new releases — cable and telephone companies also have incentives to enable smooth video downloads, as they compete head-to-head for not only Internet access customers but also phone and TV customers.
The room for growth of video content is significant, Arora added, with downloads of movies and TV shows representing just 7 percent of last year's $2.5 billion total paid content market, which is poised to quadruple in size by 2012.