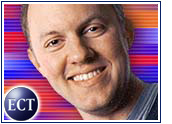 America Online (NYSE: AOL) said Tuesday that it has inked a partnership deal with Loudcloud, the company co-founded by Netscape co-creator Marc Andreessen, aimed at providing e-commerce services to merchants.
Under the agreement, Loudcloud will host and manage AOL's range of merchant services, including its QuickCheckout online wallet program.
The new partnership will offer e-commerce services to merchants unwilling or unable to invest in their own in-house infrastructure but still eager to have a presence on the Web.
AOL vice president of e-commerce Patrick Gates said that Loudcloud has quickly "developed an excellent reputation for stability and scalability" for e-commerce.
By relying on Loudcloud and AOL's online wallet technology offerings, Gates said, small and mid-sized Web merchants can focus on running and growing their businesses.
Shift of Resources?
The deal revives a longstanding relationship between AOL and Andreessen. Loudcloud was founded by Andreessen in October 1999, just months after selling Netscape to AOL in a deal valued at about US$4 billion. Andreessen at one time served as chief technology officer at AOL.
Analysts say that AOL's decision to bring Loudcloud on boardmay be a way for the Internet giant to shift its resources away from supporting merchants, now that AOL is looking to capitalize on the potential of its now finalized merger with Time Warner.
That potential is enormous, according to new research. A Jupiter Media Metrix report released Tuesday showed that one-third of all time spent online comes from users of AOL or Time Warner properties, with AOL making up the majority of the user base.
Streamlined Shopping
By linking with Loudcloud, AOL will be able to continue to license its in-house Web-selling technology without carrying the burden of hosting or marketing those services directly. Loudcloud already offers hosting and portal services of its own.
The QuickCheckout program enables online shoppers to pre-enter up to 50 shipping addresses and 10 different credit card numbers, helping to streamline the checkout purchase for repeat customers.
Outsourcing Options
Loudcould president of product operations Tim Howes said that the deal would enable the Web portal firm to offer "a rock solid outsourcing option."
Loudcloud, which is based in Sunnyvale, California and has about 550 employees, focuses on building and hosting of Web and e-commerce infrastructure. The company filed for a $180 million initial public offering in September, but has yet to move that offering forward.