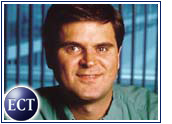 Forces on both sides of the battle over Internet privacy took their dispute to the U.S. Senate on Tuesday, where executives from America Online (NYSE: AOL) and Hewlett-Packard (NYSE: HWP) testified in favor of legislation that would protect personal data.
The bill, introduced by Senators John McCain (R-Arizona) and John Kerry (D-Massachusetts), calls for Web sites to post notices of their privacy policies and give visitors and customers the chance to "opt out" of data collection programs.
In study after study, consumers have revealed that concerns about their privacy is one of the main reasons they do not spend more time on the Web, especially at commercial sites.
High-Tech Bellwethers Support Bill
Much of the e-commerce industry is concerned that Congress might pass legislation requiring Web sites to make consumers "opt in" to any data collection programs that seek to acquire information that is irrelevant to whatever sale is being made at the moment.
In testimony supporting the McCain-Kerry bill before the Senate Commerce, Science and Transportation Committee, AOL senior vice president for global policy George Vradenburg III said that his company has always supported consumer privacy.
"We recognize that the power of the Internet can only be fully realized if consumers feel confident that their privacy is properly protected," Vradenburg said.
However, he cited the need to balance such concerns with "consumers' desire for personalization, customization and the other exciting benefits of the interactive medium."
Industry Prefers Self-Regulation
Hewlett-Packard technology policy manager Scott Cooper said that self-regulation is a preferable option to legislative enforcement.
"We think the private sector has done a good job of responding to privacy concerns," Cooper said.
Under McCain and Kerry's bill, the Federal Communications Commission (FCC) would have the authority to enforce the rules and levy penalties.
"We believe that this market-based approach appropriately builds on existing marketing practices to set a baseline standard for privacy protection," said Vradenburg.
Consumer Advocates Worried
However, the legislation does not go far enough in the eyes of consumer advocates who say that the process of opting out of data collection methods is potentially cumbersome — and that it is in the interest of Web sites to make it so.
In the past, AOL has come under fire for marketing vehicles such as pop-up advertising windows that appear when signing on to their service. Many have pointed out that while users can turn off — or opt out — of receiving such "special offers," it is a cumbersome process that AOL does not advertise.
Among those testifying in favor of stronger privacy legislation was Marc Rotenberg, executive director of the Electronic Privacy Information Center (EPIC), who told committee members that "privacy notices, without other substantive rights, operate more like warning labels or disclaimers than actual privacy safeguards."
Competing Legislation
The McCain-Kerry bill is not the only piece of legislation active on Capitol Hill that deals with privacy. One piece of legislation, which is being pushed by Sen. Ernest F. Hollings (D-South Carolina) and has won the support of many consumer advocates, would require sites to obtain permission from visitors before collecting any personal data that could be used to identify them in the future — while allowing anonymous information to be used for marketing purposes if the user consents.
"Any bill that doesn't have 'opt-in' is just whistling Dixie," said Hollings at the hearing.
Other bills, such as one being sponsored by Sen. Conrad Burns (R-Montana) and Sen. Ron Wyden (D-Oregon), would split the difference, going further than McCain and Kerry's bill by giving consumers the chance to view and modify their data and providing stiffer penalties for violators.