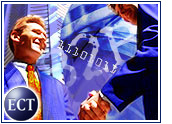 The escalating industry-wide penetration of business-to-business (B2B) exchanges will eventually give rise to a batch of legal uncertainties that businesses and regulators will be forced to address, according to a report released Wednesday by Forrester Research.
"As e-marketplaces and online trade become an integral part of how industries operate, business on the Internet will resemble a massive round of deregulation," said Forrester analyst Jay Stanley. "You will see an initial burst of competition, but it will give way to a new set of winners that will gain dominance and lower the intensity of competition again."
The "B2B Antitrust Minefield" report also states that over the long-term, e-marketplaces will be subject to a shakeout similar to the one currently rattling the business-to-consumer (B2C) sector.
Shifting Competitive Landscape
At present, antitrust regulations are broadly defined, leaving them open to subjective interpretation, the report said.
With the continuing evolution of the new economy and the alteration of competitive practices, however, businesses increasingly will seek more concrete policies by which to conduct their operations. The study concluded that antitrust regulators, judges and academics will have to adapt the law to the shifting landscape.
Researchers project that these competitive changes will drive antitrust policy through three distinct phases: uneasy consensus, e-marketplace scrutiny, and increased oligopolization.
Modifying Business Models
The main B2B concerns that are currently being raised by industry watchers and executives — including price fixing, exclusion and the illicit sharing of information — will not have a detrimental impact on the development of e-marketplaces, the report said.
Instead, these fears will be eased by online exchange operations themselves, which will work to prove their neutrality, and antitrust counsels who will flag problems before they progress, the study concluded.
Survival of the Fittest
In roughly five years, Forrester forecasts that the number of online B2B exchanges will begin to shrink as a wave of competition and consolidation takes hold.
With fewer survivors in the market, online trade will be channeled through these still-standing exchanges. Mergers between struggling e-marketplaces will trigger increased antitrust scrutiny, the report said.
To address any potential anti-competitive practices that may emerge as a result of these joint ventures, researchers said that some policymakers will try to intervene to prevent a single exchange from siphoning business from rivals. At the same time, others will advocate a more hands-off approach.
Meanwhile, said researchers, e-marketplaces will become more tightly interconnected. In response, regulators will also have to weigh their options and decide whether they want to inject themselves into the emerging technological issues or let businesses leverage their own dominance.
Re-evaluating Antitrust Policies
The success of e-marketplaces will spur greater oligopolization in many industries by 2006, the study said, and antitrust policies will have to be re-evaluated to address suppliers, buyers and their exchanges.
"The emergence of e-maketplace oligopolies will lead to renewed debate about whether the government should intervene in the market or simply regulate it to make sure that monopolies are not abused," said Stanley.
The study also noted that legal battles over new product and market definitions will further complicate the debate.
"It will take years to arrive at a coherent set of standards as authorities make decisions on a case-by-case basis," Stanley added.