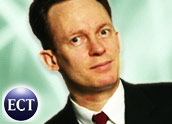 Dear Craig,
Everyone knows that you have had a rough time recently. Everyone knows that Oracle's Larry Ellison wants to cleanroom your software and cannibalize your company.
Larry has personalized his takeover bid. He said that if he saw you and your dog Abbey standing next to each other, and "I had one bullet, trust me, it wouldn't be for the dog."
On Friday, October 1, 2004 you were summarily fired from PeopleSoft, from the very organization that you worked so hard to save.
Now what will you do?
Learn from the past. Stop living in it.
Retreat into the shadows like a defeated tribal chieftain in ancient times. Make new friends. Gather new forces. Then sweep down upon your rivals and crush them totally. Plan follows.
First, let us set the record straight about what Oracle will inherit if its takeover bid succeeds. Larry is buying a middleware company that had stitched together more than seven separate enterprise software packages that were largely acquired by PeopleSoft through acquisitions of its own.
PeopleSoft was never a truly integrated software firm. PeopleSoft was too enamored by the profit rates it received from selling instant-legacy software. PeopleSoft was too big, too slow, and too inefficient to be able respond quickly to new technologies and new market conditions.
Stealing Your Bad Luck
PeopleSoft violated the most basic principles of good software architecture. Larry is correct when he says that PeopleSoft's products do not deserve to live. PeopleSoft was vastly over valued and its controlled demise is the best thing for PeopleSoft customers and for the larger economy. Get over it already.
The Inuit say that when someone steals something from you, they are stealing your bad luck. The fact that Larry has promised to keep supporting those old products for the next 10 years will slow him down and make him an easier target for your next venture. Send him a nice thank-you card in 5 years.
A Cunning Plan
Come to Calcutta with me, Craig. The government will give you land, research facilities, production support, and unrestricted access to the most underutilized software development talent in the world.
What happened to all those H1-B visa holders at Oracle when their U.S. visas expired and they had to return home? Look for them in Calcutta behind tiny black and white monitors, huddled together in old horse stables and run down office buildings, nursing their unfulfilled dreams. They will be your most loyal staff and your best developers.
Commoditize Enterprise Software
What the world needs now is not what Oracle is going to be dishing up over the next 10 years. The world does not need a PeopleSoft 'Lite'. The world will change just as fast for Oracle as it did for PeopleSoft.
What Michael Dell did by commoditizing PC production, Craig Conway can do for enterprise software. Set your price points in the U.S. at 20% of whatever price Oracle charges. With Calcutta as your production base, that should give you a 200% markup.
What the world needs now is extremely cheap, effective, robust enterprise software. It should operate in open source environments, be both scalable and capable of running on lousy hardware in extreme conditions, and be localized in languages other than English.
Evaluate different architecture and delivery options, build and train a heterogeneous workforce, and then ship products in a phased manner. Start with a highly scalable relational database product and use that as your foundation for subsequent application suites–integrated application suites.
Good low cost software for business will make those businesses more efficient and profitable. The global economy will benefit.
You can do it Craig.
If your motivation ever fades, just imagine Larry Ellison heading off into the woods ten years from now. Alone. With just one bullet.
---
Anthony Mitchell
, an E-Commerce Times columnist, has beeninvolved with the Indian IT industry since 1987, specializing through
InternationalStaff.net
inoffshore process migration, call center program management, turnkeysoftware development and help desk management.
---