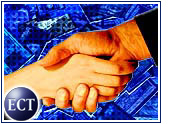 In a move that it says reflects an "aggressive focus" on growth and profitability, online brokerage Ameritrade (Nasdaq: AMTD) announced Tuesday that it has inked a deal to acquire Deutsche Bank online subsidiary National Discount Brokers (NDB) for US$154 million in common stock.
"It's a reasonable price they're paying," Morningstar.com analyst Harry Milling told the E-Commerce Times. "I don't think it's a home run, but it will boost growth."
Omaha, Nebraska-based Ameritrade said the agreement would help boost its revenue by $67 million and increase its customer base by 20 percent, or 316,000 additional accounts.
Across other areas, Ameritrade said the purchase would bring $6.3 billion in client assets, representing a 24 percent spike, and 9,000 additional trades per day. Moreover, Ameritrade said the acquisition will allow it to augment its offerings with employee stock option accounts.
"The deal plays into Ameritrade's strategy of going into the direction ofasset management," Milling said. "This does give them assets to funnel into their assetmanagement strategy."
Asset Facets
Milling noted that while NDB's per-day trading volume is less than that ofAmeritrade, the number of its assets is considerably higher per account,which makes the deal "very attractive."
Said Ameritrade chief executive officer Joe Moglia: "By maximizing our operating leverage, we expect to increase our commission revenue, net interest revenue and operating margins, and move toward our goal of being a market leader in every client segment we serve. Our new clients will benefit from our segmentation strategy, which will provide greater choice and customized products and services."
Depending on the value of Ameritrade common stock prior to closing, the brokerage will issue between 21 million and 32 million shares to pay for NDB. Upon its completion, NDB will own between 10 percent and 14 percent of Ameritrade common stock. NDB will also retain its institutional market making business.
Looking for Impact
Ameritrade said the transaction, which is expected to close in the fall, would immediately build the company's earnings and cash flow.
Milling said that the purchase might "help Ameritrade grow throughacquisition but it won't let them grow organically," however.
"I applaud them," Milling said. "I don't think its prospects have deteriorated as much asits rivals, but they're still not growing. All online brokers have seen hardtimes and Ameritrade is still just keeping its head above water."
Revamping Business
Ameritrade's acquisition of NDB comes on the heels of the largest reorganization in the company's history, as the harsh stock market climate continues to batter the bottom lines of many online brokerages. Ameritrade restructured its operations at the end of June into two business units, one serving private clients and the other institutional clients.
Ameritrade said the restructuring would allow it to "maximize" its existing assets in light of the adverse market conditions it has faced for over a year. In April, Ameritrade announced that it was slashing its advertising budget by roughly 25 percent and laying off between 270 to 300 workers, or 14 percent of its payroll.
Last week, Ameritrade said it broke even with its fiscal third quarter sales of $112.6 million, but issued a warning that revenue for the fourth quarter ending September 30th could fall as much as 26 percent.
In early trading Tuesday, Ameritrade stock inched up 49 cents to $6.40, off its 52-week high of $21.50.
Rival Cuts
In an effort to ride out the stock market slump, many of Ameritrade's rivals have recently instituted cost-cutting measures to offset weak customer trading volumes.
On Monday, discount brokerage TD Waterhouse announced plans to cut 9 percent of its work force, or roughly 6,000 jobs, as well as close 17 U.S. branches and a call center in Chicago. The brokerage pink-slipped 18 percent of its workers in April.
Charles Schwab has also said recently that it planned to cut about 13 percent of its workforce, due to market conditions and lowered trading volume. Likewise, at the end of May, CSFBdirect.com said it was slashing 180 positions, or 14 percent of its domestic employees, due to a downturn in online trading activity.
"Online brokers in general will never see the growth based on thespeculative buying bubble that enabled this phenomenon," Milling said.