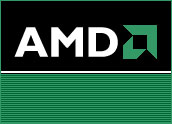 Advanced Micro Devices, the world's second-largest microprocessor maker, warned Thursday that its fourth quarter results would come in below previous expectations. The news sent the company's shares spiraling and raised questions regarding the overall strength of the technology sector.
AMD said revenue would come in at around US$1.33 billion for the fourth quarter, a 3 percent increase over the third quarter. It also said income would be "substantially lower" than in the previous quarter.
The company added that the top and bottom lines would be disappointing despite an overall rise in units shipped, a sign that price competition with Intel — the No. 1 chipmaker — and other rivals was dragging down profitability.
Sunnyvale, Calif.-based AMD said its results were impacted by significantly lower microprocessor average selling prices, which "largely offset a significant increase in unit sales."
The company's shares took a big hit, with the stock down nearly 11 percent in morning trading Friday to $17.97. AMD will formally report earnings on Jan. 23.
Ripple Effect?
Wall Street analysts wasted no time in downgrading AMD, with Citigroup, Prudential, Bear Stearns, Goldman Sachs and Morgan Stanley all lowering their ratings on AMD shares as a result of the warning.
The news could have broader implications, with chipmakers often viewed as a bellwether in the technology arena, since their products are the building blocks for a host of computer and electronics gear.
Lower prices could be a sign that AMD is attempting to clear out inventory in an effort to make room for next-generation products. Or it could be a sign that rivals are putting pricing pressure on AMD. Intel, in particular, has long been viewed as willing to use its market share size as leverage, lowering prices when necessary to keep sales robust.
The AMD warning also came a day after major software maker SAP warned that its new licensing revenue would be lower-than-expected. Last week, Motorola issued a warning of its own and painted a picture similar to that of AMD: Higher unit sales but lower profits and revenue, a direct result of price-slashing designed to move older mobile handsets.
Still, AMD's issues were not a sign of a larger malaise in the tech sector, which in recent weeks has become a stock-market leader after spending much of the latest market rally in the shadow of other sectors.
The data may suggest that Intel's efforts to win back market share that a surging AMD wrested from it last year are starting to pay dividends. AMD is also in between product cycles, with a new version of its Opteron server chip not due until later this year.
Taking It Back
AMD hopes its recent purchase of graphics chip maker ATI will help it find new markets and drive sales of some PC chips. That unit, which continues to operate independently following AMD's $5.4 billion purchase of it in July, specializes in the types of graphics technology found in high-end gaming PCs. That strategy is expected to take time to bear fruit.
In the meantime, "slower demand" combined with "competitive pressures from Intel" were behind the weak quarter, according to Merrill Lynch analyst Joe Osha.
"We think the market share gains that AMD has enjoyed in the performance desktop processor segment have come to an end for the intermediate term," Osha said. AMD has also not yet succeeded in expanding its server market share gains into other areas, such as processors for notebook PCs, the fastest-growing segment of the computer market.
After some quarters in which AMD was able to make inroads, through partnerships with Dell and other PC makers and server makers such as IBM, AMD is seeing Intel answer back, Gartner Vice President Martin Reynolds noted.
Intel's new family of quad-core processors released last fall represent a significant jump in performance and may have caused some enterprise customers to think twice about buying from AMD, Reynolds told the E-Commerce Times.
Intel has also moved to streamline and reduce costs, announcing last September that it would cut some 10,500 jobs and take other steps that would save it up to $3 billion per year by 2008.
"As it was gaining market share, AMD had to realize Intel was going to respond," Reynolds said. Pricing, he added, comes into play from time-to-time, but in the long run, the company that makes the better processes will be rewarded by the marketplace.