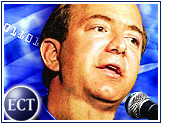 After a crazy couple of months — during which a bevy of big name dot-coms had their survivor torches extinguished for good — things seemed to have quieted down a bit. Maybe the long days of summer invited languishing, and seaside vacations temporarily soothed investor jitters.
However, the calm was suddenly vanquished when analyst Ravi Suria of Lehman Brothers, Inc. proclaimed that Amazon.com — e-commerce's biggest big dog of all — was bleeding money. Suria predicted the company would run out of cash eventually, and could face a hard sell on the capital markets.
The foundation-shaking charges didn't exactly come out of nowhere. Judging by the company's falling stock price, concern about Amazon's ability to turn a profit in the short — or even medium — term was already widespread.
But Suria's argument dramatically darkened the cloud over Amazon. He suggested that by boosting sales without getting distribution costs under control or boosting sales margins, Amazon was actually digging itself deeper into a hole. Crunch time, he said, could arrive in early 2001.
No, Seriously
Everyone knows these are tough times for e-commerce. The mainstream media is having a field day with the shakeout, amplifying each bankruptcy and completely ignoring success stories.
But could Amazon actually fail? CEO Jeff Bezos would have none of it: He assured the e-commerce world that Amazon is still sitting on a cool $1 billion (US$) and that it can play out the rest of 2000 without dipping into its reserves.
Great news, right? Well…the billion dollar boast doesn't alter the underlying economic reality that brought on both the stock price plummet and the analyst warnings.
Taboo Shattered
At the every least, the question is now center stage in the arena of public debate. The current issue of Business Week gives some seven pages to ruminations on the possibilities and potential outcomes. To be sure, if Amazon does go under, the whirlpool it generates will suck down countless online retailers.
And the plain fact is that Amazon could fail. Every business, no matter how much cash it has in the bank, will eventually run out of options if it is unable to turn the corner to profitability.
E-Commerce Flag Bearer
Nevertheless, there are ample reasons why Amazon won't go under. For one thing, consider the company's sheer size. Its seventeen million customers, Amazon claims, make it a likely survivor.
Also, Amazon has done a good job of striking up partnerships with other dot coms, including Drugstore.com, Gear.com, HomeGrocer.com, Pets.com, and Ashford.com — although there is the question of whether lashing all those e-tailers together makes the raft more or less likely to founder.
And of course, Amazon's history goes way back to 1995, when the World Wide Web was as wide open as the Wild West. As the Internet grew, the company expanded from books and music to electronics, and built its own warehouses instead of relying on suppliers. Amazon became the model citizen that everyone tried to emulate, the e-tailer most likely to succeed.
A New Dawn
In the end, however, those factors are not going to keep the wolves at bay. Amazon has to stop falling back on superlatives like biggest and first, and start acting like a company hell bent on making money on the Internet.
Amazon has to become more aggressive. In the midst of a shakeout that has already pulled some serious e-tailers underwater, Amazon has yet to be seen prowling around looking for opportunities to scoop up even more customers, innovate with new technology or update its image with new brands. Amazon has been sitting back on its haunches, waiting forwell, maybe for Harry Potter to come along and save the day.
Perhaps the fictional sorcerer will do just that. If nothing else, the Potter experiment — shipping nearly 300,000 books on a single day — will give Bezos a chance to prove that Amazon's warehouse and order fulfillment infrastructure is worth the massive investment required to build it.
But in the long term, Amazon is as vulnerable as any e-commerce company to the vagaries of investors — its stock price proves that — and the marketplace. Bezos needs to take a page from the Bill Gates handbook if he wants to turn Amazon from a complacent pooch into a hungry lion.
Smooth Sailing
If any e-commerce ship can be righted, it is Amazon's. Rather than watching from the wings as consolidation occurs, Amazon should prompt it, gobbling up smaller competitors and striking alliances with friendly foes.
If Bezos does that, Amazon won't be on the deathwatch list for long. But if he insists on staying the course, even the Titanic of e-commerce could find itself on the bottom of the ocean.
What do you think? Let's talk about it.