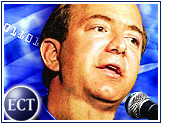 Shares of e-commerce giant Amazon.com (Nasdaq: AMZN) took a nosedive in early trading Friday, dropping as much as 19 percent on fears that the company may run out of cash and face sharper competition in the upcoming holiday season.
Amazon's shares closed Friday at $33.78 (US$), reaching a new 52-week low. The plunge is the third largest one-day drop for the Seattle, Washington-based Internet retailer since it went public in June 1997.
The loss was precipitated by fears that Amazon is burning through its cash reserves too fast and could be scraping the bottom of the barrel as the crucial holiday season arrives. Amazon reportedly has $1.08 billion in hand and is going through some $115 million a month, meaning it could conceivably run out of money in just over nine months.
'Extremely High Risk'
Lehman Brothers analyst Ravi Suria wrote in a report that Amazon's recognizable brand name is not doing enough to stem a string of steady losses.
"Going into what is the most challenging holiday season, we believe that the combination of negative cash flow, poor working capital management and high debt load will put the company under extremely high risk," Suria wrote.
Friday's slide sent Amazon's shares to their lowest level since December 1998, tumbling from 113 in just six months. In April, Amazon's last reporting period, the company announced first quarter pro-forma losses of $121 million, an increase of 200 percent over the corresponding period in 1999.
The quarter also marked the first time that Amazon's revenue declined from quarter to quarter sequentially.
Bellwether Blues
The fear that the Internet industry's bellwether e-commerce retailer since 1995 could be in some risk will undoubtedly send more tremors through an industry that has been shaken by a retrograde period in recent months.
The tech-heavy Nasdaq is down almost 20 percent in the last three months, and e-commerce retailers are starting to fall by the wayside as a period of consolidation grips the industry.
Over the past several weeks, such e-tailers as Toysmart.com, Craftshop.com, Red Rocket, Foofoo.com and Babytime.com have gone out of business, and eParties, Boo.com, Reel.com, Petstore.com and Lycos have been bought out or consolidated.
What's more, Peapod, CDNow and PlanetRx are having well-publicized struggles to keep afloat on a tide of rising debt.
As a result, industry analysts have predicted an exodus of sorts by Internet consumers to larger established Web sites like Amazon.com.