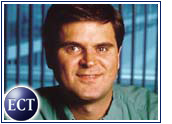 Lawyers for the U.S. Federal Trade Commission (FTC) are drawing up a list of concessions it wants executives from America Online (NYSE: AOL) and Time Warner (NYSE: TW) to agree to before it will approve their proposed $147 billion (US$) merger, according to published reports Tuesday.
The FTC is reportedly weighing a number of concessions, including whether to make AOL divest itself of its $1.5 billion investment in Hughes Electronics Corporation, owner of DirecTV, the number one satellite television service in the United States.
The government lawyers are reportedly concerned that AOL and Time Warner, the nation's second-largest cable television company, would become too powerful if allowed to build on its relationship with Hughes.
AOL announced the investment in Hughes in June 1999 as part of its "AOL Anywhere" initiative, a bold stroke to expand its presence to television screens and wireless devices. Hughes, which is a unit of General Motors, has nearly nine million DirecTV subscribers.
The FTC is not the only entity worried about the AOL-Hughes relationship. The Federal Communications Commission (FCC) asked AOL to detail its alliance with Hughes earlier this summer, according to published reports.
Other Concessions Sought?
Other reports Tuesday indicate that FTC lawyers are concerned that the AOL Time Warner merger would threaten competition for high-speed Internet access over cable wires, particularly in cities served by Time Warner's extensive RoadRunner network. The system reaches 20 percent of U.S. households.
The FTC, which is in the preliminary stage of their investigation into the proposed merger, is said to want the companies to agree in writing to make concessions to open up the Time Warner network to competitors. Other press reports say that AOL and Time Warner are likely to face restrictions in their relationship with AT&T, the largest cable operator in the United States.
Competition Seeks Access to Market
The government agencies are not the only entities voicing concern about the proposed merger. Competitors are also calling for tight restrictions, citing the potential for monopolistic practices by the company in technologies like interactive television. AOL is currently preparing a rollout of its AOLTV interactive service.
NBC and Disney have asked the FTC to consider splitting the merger into two companies, one dealing with content and the other with distribution. Executives at AOL and Time Warner have balked at that suggestion.
However, consumer advocates point out that AOL was a leading advocate for a law that would force cable companies to provide open access to rivals before it announced its intention to acquire Time Warner. Now, they say, AOL is arguing that government intervention is not necessary because data distribution technology is evolving rapidly and would likely outpace any restrictions the government imposes.
For its part, AOL says it is communicating with the FTC and it expects merger to conclude on schedule this fall.