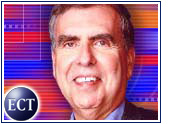 The proposed $143 billion (US$) merger of Time Warner, Inc. (NYSE: TW) and America Online (NYSE: AOL) is in jeopardy of being vetoed by the European Commission unless the two companies make significant concessions, the commission said Monday.
Specifically, the two giants will have to surrender some control over the sale of online music if the companies expect to see the commission approve the proposed merger by October 24th, the deadline for a final decision. The European Commission is involved in the regulatory process over the proposed merger because the companies have over 250 million euros (213 million US$) in sales in the European Union.
Earlier this year, AOL and Time Warner offered to cut back on part of the companies' music, television and book publishing agreements with German publishing giant Bertelsmann AG, but the commission rejected that offer as insufficient to resolve its concerns.
The two companies said they expect that European regulators will ultimately put their stamp of approval on the merger, a response that echoes their statements about the U.S. Federal Trade Commission (FTC) and Federal Communication Commission (FCC) regulatory investigations.
Concerns Span the Atlantic Ocean
Critics of the merger — many of whom are direct competitors of the two companies — point to several reasons to block the deal.
Two of the primary issues raised are: whether consumers will be able to subscribe to competing Internet service providers (ISPs) and whether those ISPs will have access to cable lines owned by the merging giants.
AOL's dominance in the Instant Messaging (IM) sector also concerns some critics. AOL controls 90 percent of the market, and many say it is loath to open its network to rivals.
Time Warner, EMI Also On Agenda
In addition to probing the AOL and Time Warner merger, the European Commission is also looking at the proposed merger between Time Warner and recording label EMI plc. If approved, that merger would create the world's largest music company.
Time Warner and EMI plc said Monday that they have offered concessions to the commission. The companies said they hope to gain approval of the deal before the deadline of October 18th. However, the commission drafted a preliminary decision to block the merger last week.
Published reports say that the two offered to sell some music publishing and recorded music units to obtain approval from the European Commission. They also said they would promise not to give America Online preferential treatment for music distribution over the Internet.