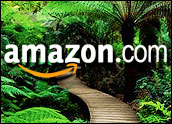 Amazon's stock was down about 12 percent Wednesday despite posting earnings that were better than expected and predicting a record holiday quarter, as a lower-than-expected profit outlook weighed on investors.
The e-commerce giant managed to post a four-fold increase in net earnings for its third quarter, growing net income to US$80 million, a 313 percent increase when compared with the $19 million it earned during the third quarter of 2006. Revenue rose 41 percent to $3.26 billion. The average outlook among Wall Street analysts was $3.14 billion in sales.
Amazon predicted that its fourth quarter operating income would be within the $221 million to $291 million range, which fell short of some analyst estimates.
Ahead of the earnings release late Tuesday, Amazon shares had been soaring, climbing over the $100 level for the first time in seven years. The stock retreated dramatically Wednesday, falling 16 percent to $84.20 in midday trading. That price still represents a more than 100 percent gain in share value over the past year.
Investors may have gotten ahead of themselves by driving the stock beyond $100, a level that presumes healthy profit margins as well as robust top-line sales growth, Citigroup analyst Mark Mahaney said in a research note. "The comparisons get harder from here," he wrote.
Customers continue to embrace Amazon's free shipping offers, including Amazon Prime, said Amazon CEO Jeff Bezos. A growing selection of products — Amazon added MP3 downloads in the past month and over the summer began selling grocery items — is helping the company gain new customers, he added.
Margin Call
A highlight of the quarter for Amazon was the release of the seventh and final Harry Potter. Amazon sold 2.5 million copies of the book, a record in new product releases for the e-tailer.
However, that windfall may have helped dent profit margins, which were down 2 percent in the quarter, JupiterResearch analyst Patti Freeman Evans told the E-Commerce Times. Amazon sold the book at a steep discount to most other retailers, she noted, and the company acknowledged it fell short of breaking even on the book's sales.
Earlier this year, Amazon said it was reducing its spending on technology and content for its sprawling store, a move that has helped pump up profits in recent quarters.
Amazon has room to grow into the spending on its technology platform — including its third-party merchant platform, which accounted for 32 percent of total sales in the quarter, said Chief Financial Officer Tom Szkutak.
Amazon sales were up across its global reach, with North American sales increasing 42 percent and international sales rising 40 percent — boosted by favorable foreign exchange rates.
Amazon did not give any insight into the early performance of its Amazon MP3 digital download site, which competes with Apple's iTunes Music Store.
The company's Web services initiative continues to attract third-party developers, it said, with 290,000 such developers now signed up for the program — 25,000 more than the quarter before.
Happy Holidays
Amazon predicted a record fourth quarter, with sales between $5.1 billion and $5.45 billion, representing growth of as much as 37 percent over last year's holiday quarter.
That would be an impressive growth rate, especially since early forecasts of overall retail spending are predicting relatively conservative growth in the U.S. as the impacts of the housing slump and high fuel prices weigh on consumers.
Amazon is attracting more retail dollars because it is offering a better shopping experience, Bezos said.
"Getting products to customers quickly, having the broad selection and the deep selection, and having very attractive price points in combination with free shipping — that package of things, we have been very, very consistent on for a long time," he commented. "I just think that every year, we get a little bit better."
First-Time Customers
Amazon continues to benefit from the growth of e-commerce as first-time customers come online for the first time.
"Amazon has built a brand name that people trust and a customer experience that brings them back," Forrester Research analyst Carrie Johnson told the E-Commerce Times. "As people come online for the first time to shop and buy, they feel comfortable spending at Amazon."
Amazon has been walking the tightrope between attracting customers with discounts and benefits such as free shipping and keeping its bottom line intact since its earliest days, Johnson added. "Balancing growth and profitability has been something it's struggled with from day one," she said.