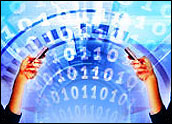 Business users of mobile services create more revenue for the industry than personal users, according to a New York market research firm.
Based on a survey of more than 1,200 wireless subscribers, the average revenue per user (ARPU) for mobile business users is 24 percent higher than personal users, according to a report from ABI Research.
That gap more than triples for mobile data services, with business people generating 80 percent more revenue than their personal peers.
As might be expected, surveyors found that business users talk more on their mobiles — 69 percent more than consumer users — but they also discovered that pin-stripers use multimedia and entertainment applications on their cell phones more, too — 78 percent more than personal users.
Effort Upgrade Needed
Although business users are golden geese for the industry, mobile operators need to upgrade their current efforts to serve the market segment, argued ABI Principal Analyst Dan Shey.
"Operators still need to develop their capabilities to better serve business customers," he said.
"Such users deliver the highest ARPU for both business applications and entertainment," he continued. "Combining the two will pay dividends."
One way business customers — at least smaller business customers — could be better served is by improving pricing schemes, asserted David Chamberlain, a principal analyst with In-Stat, a digital communication market research firm in Scottsdale, Ariz.
"In some ways," he told the E-Commerce Times, "unless you're a major enterprise, a lot of the times the pricing is not much better than family plan pricing."
More High-End Phones
Shey also recommended that operators introduce more high-end phones targeted at business users and that they strive for greater service integration.
However, the ABI report cautioned the industry about introducing new technology for technology's sake.
"For generally happy customers who use mobile services in ways that provide them the most value, introducing new capabilities that address needs already served sufficiently by other technologies will not immediately create great interest in new products," the report states.
"[C]ustomers must see the immediate value of new technologies in terms of costs, solving a problem or improving the mobile experience," it continues.
"The proper positioning of new technologies both internally and externally will improve uptake and reduce negative customer reactions," it added.
Call for WiFi
Shey also recommended that cell phone makers incorporate wireless networking into more of their products.
"One key to greater success," he opined, "is to target the implementation of WiFi into devices used by customers with the greatest need for access cost reductions, and the greatest ability to connect to WiFi access points, such as international travelers."
Jumping on the WiFi train now, will give phone makers a leg up on future demand, the ABI report reasons.
"Carrier acceptance of these devices varies depending on their network assets and how usage scenarios will affect their costs and revenue," the report explains.
"For instance," it continued, "carriers with only cellular assets may warm to WiFi phones if it takes load off of their networks, but may sour on these devices if they think WiFi access will lower customer ARPUs.
"Regardless, WiFi is here to stay, and the cost and capacity benefits cannot be ignored by customers or carriers," it adds. "Pull demand from customers will help push operators to actively request WiFi in their handset lineup."
iPhone Impact
Although the ABI survey showed a substantial gap in revenues generated by business users compared to personal users, that gap may shrink as consumers are enticed to increase their mobile spend by devices like Apple's iPhone.
"It will bridge the gap by allowing consumers and professionals alike to view a device — other than a laptop or a PC — as a computer," Jason Dowdell, founder and editor of MarketingShift.com, told the E-Commerce Times.
"If you're an individual or a business person," he added, "it's much more convenient to have one device rather two or three devices."
Chamberlain asserted that the iPhone will "recalibrate for a lot of people what it is they do with their phones and how much they pay for them.
"The sorts of things that businesses are accustomed to now are going to become more common place for consumers because of the iPhone," he added. "It's the sort of thing that's going to push spending both for hardware and monthly service upward for consumers."