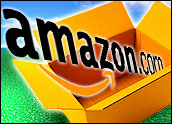 Amazon.com, daring to tread on ground where some of the most spectacular dot-com burnouts took place, has begun selling groceries through its sprawling e-tail site.
Without formally announcing the move, Amazon added a beta version of a "grocery" category, bringing to 34 the number of different product niches the onetime books-movies-and-music retailer now sells.
Checking the List
The foray is not Amazon's first flirtation with food. The site has had a gourmet foods section for some time, selling gift baskets and other items.
Amazon says the new grocery section features more than 10,000 items, all of them non-perishable. The items are eligible for Amazon's free shipping programs, including its Super Saver program where orders over US$25 are shipped for free, and its Amazon Prime program, through which customers pay a membership fee to have items shipped for free.
The site, which Amazon says it will refine based on customer feedback, also features a shopping-list function, which remembers items a shopper purchased in the past and will make suggestions for related items or when it believes it's time to restock.
Amazon's offerings do not include perishable items that cannot be shipped long distances. That and other differences, especially in the back end, may help set Amazon apart from the lengthy list of would-be dot-coms that burned through millions in venture capital trying to convince consumers to embrace the convenience of online shopping.
Delivery Hurdle
Perhaps the best known online grocer, Webvan, became a symbol of the dot-com shakeout when it filed for one of the largest bankruptcies in U.S. history in July of 2001, after burning through close to $900 million in venture funding and IPO proceeds. Others, such as Streamline.com and HomeRuns.com, also folded after short runs. Another legendary dot-com bust, Kozmo.com, famously offered to deliver anything a customer wanted to buy online.
Amazon hinted it might one day expand its selection to include more items.
"Because we only carry products when we can offer great prices and free shipping, we don't carry everything [yet!]," the company said in a notice on its Web site. "For example, we don't currently offer perishable items such as milk, fresh meat, or peaches, because we can't ship these for free. But, we work on improving our selection every day, so check back often to see what we've added."
That hurdle — the so-called last-mile to customers homes — was seen dooming many of the dot-com grocers, with delivery costs eating up any profit the companies were able to squeeze out of the sale of grocery items, many of which have razor-thin profit margins under the best of circumstances. Webvan tried to overcome the hurdle by investing heavily in a network of climate-controlled warehouses.
One possibility may be for Amazon to use partnerships with local grocers or others who can deliver perishable items.
Amazon said its grocery store would include "longtime staples, from Kellogg's to Jiffy Pop" and "new entries such as Kashi cereals and Kraft Easy Mac microwavable snack packets. And when we carry a brand, we'll try to carry every flavor available: not just the most popular flavors of Jell-O, but all flavors," the note said. The lineup also includes natural and organic products.
Advantage Amazon
Amazon may benefit from several factors, including customers' familiarity with the retailer and the fact that Amazon already has the purchasing data for millions of customers, enabling it to offer one-click checkout and other shortcuts that could bring online grocery shopping closer to the ultra-convenient experience many had long hoped it would be.
"Amazon excels at customer satisfaction and providing added value in the purchasing experience," said Forrester analyst Carrie Johnson. "They're one of the best at that aspect of e-commerce."
Its sheer size, and the eagerness of consumer packaged goods makers to raise their profile on the Internet — where direct Web sales would also support branding efforts — may also enable Amazon to offer prices that are competitive with big-box stores such as Wal-Mart and Costco. With gas prices near record highs and not expected to drop substantially any time soon, consumers may be eager for the chance to cut down on trips to the store as well.
Investors seemed to support the move, with Amazon shares up about 2 percent in afternoon trading Thursday to $34.28.