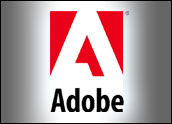 Adobe Systems posted record revenue and profits that beat Wall Street forecasts, but the software maker's shares fell Friday on a less-than-stellar outlook.
The company's revenue reached a record of US$745.6 million for the second quarter, a 17 percent jump over the same period in 2006, when sales were $694.4 million. The figure also outpaced the company's own guidance.
Profit rose to $152.5 million, about 24 percent higher than the previous year's quarter.
Disappointed Investors
The record performances of both Creative Suite and Acrobat application lines — both of which are in the midst of strong upgrade cycles — drove the results, said CEO Bruce Chizen.
"Assuming continued business momentum, we expect to exceed our original fiscal year revenue and profit targets," he added.
That outlook seemed to disappoint investors, who were hopeful that after soundly beating estimates for the second quarter, Adobe would raise its targets for the coming quarter and all of 2007.
Shares of San Jose, Calif.-based Adobe fell about 3.3 percent by Friday afternoon to $42.49.
Getting Creative
Adobe owed the strong quarter to the release of Creative Suite 3, or CS3, an application bundle that includes the Photoshop and Illustrator design programs as well as the Dreamweaver Web site building software. The product hit shelves in April.
Revenue for the creative solutions business unit, which includes CS3, rose some $70 million to $436.6 million, noted Adobe CFO Mark Garrett.
Sales of the updated suite are 30 percent ahead of the second-generation version at the same time after its launch, Adobe said. It will release the product in Japan and other markets over the summer, according to COO Shantanu Narayen. Sales also got a boost from Acrobat 8, which was released late in 2006.
Still, demand will slacken over the summer, the company said, due to the general seasonal slowdown in demand for corporate software, particularly in Europe, where workers often take a full month off.
"We are entering a seasonally weak quarter," Chizen said.
That seasonality caused Adobe to guide toward the low end of Wall Street forecasts, with earnings expected to be between 39 cents and 41 cents and revenue between $760 million and $800 million. The consensus of analysts who follow Adobe is for the current quarter to see 40 cents per share of income on $781 million in sales.
Looking Ahead
Investors were looking for another stronger-than-expected forecast from Adobe, said Piper Jaffray analyst Gene Munster.
"Some people were looking for the momentum to be carried into the summer quarter," he told the E-Commerce Times. "It may still happen, but management was wise to tamp down expectations a little heading into the slower season."
Meanwhile, Adobe may be moving into position to benefit from the mobile revolution. Adobe's relatively small mobile and device solutions unit posted a 60 percent revenue gain to $12.3 million.
Branching Out
The company expects to have some of its customized mobile solutions, including FlashCast software to enable smoother video viewing on handsets, in the market by the end of this year.
Adobe also has designs on branching out into other areas beyond design and document sharing, Gartner analyst Jeffrey Mann told the E-Commerce Times.
Earlier this year, Adobe bought instant messaging vendor Antepo with a goal of integrating that firm's tools into programs such as Acrobat. Because its products are already used for creative collaboration, building in features such as instant messaging make sense, but challenges remain, he added.
"Adobe faces the challenge of finding a niche in a very crowded collaboration space," Mann concluded. At the same time, Adobe must continue to work to spread its reach beyond designers and other creative professionals to prove the company's products have value for other parts of the enterprise.