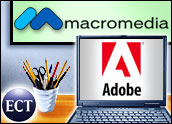 In what marks the biggest ever deal in the content creation and Web development sector, Adobe Systems today announced it would acquire Macromedia in an all-stock transaction valued at approximately US$3.4 billion.
The company said the merger will allow Adobe to meet a wider set of customer needs and have a significantly greater opportunity to grow into new markets, particularly in the mobile and enterprise segments.
"Customers are calling for integrated software solutions that enable them to create, manage and deliver a wide range of compelling content and applications — from documents and images to audio and video," said Bruce Chizen, chief executive officer of Adobe.
Integration Challenges
Jupiter Research analyst Michael Gartenberg told the E-Commerce Times that the merger makes sense, but he expects challenges in the near term as the two companies develop integration plans that build on their cultural similarities and the best business and product development practices from each side.
"Acquisitions of this scope are always difficult in terms of integration," Gartenberg said. "The key here is going to be how well they can hold the best of both companies in order to create something that's going to be of value to the marketplace."
In the combined company, Chizen will continue as chief executive officer and Shantanu Narayen will remain president and chief operating officer.
Chizen said while he anticipates the integration team will identify opportunities for cost savings by the time the acquisition closes in the fall, the primary motivation for the merger is to continue to expand and grow the business into new markets.
Implications for Microsoft
Since the merger of the companies, which publish high-end products including Photoshop and Flash, seals Adobe's position as a powerhouse in the software publishing business, some have speculated as to how software giant Microsoft might react with this new combined player on the field.
Though Microsoft doesn't compete head-to-head with either company involved in the merger, Gartenberg is betting that the folks in Redmond will keep a close eye on the new entity.
"There is the potential of this new company being able to set certain agendas that perhaps Microsoft in the future might want to set itself," he said. "When it comes to things like ubiquity of file formats, Microsoft has a vested interest and it is obviously going to pay close attention to what happens in this space."