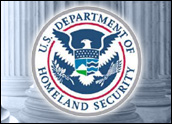 A group of technology and consulting companies led by Accenture has landed a U.S. federal contract that could be worth as much as US$10 billion. The contract calls for them to implement a border access system that will rely heavily on biometrics and other technologies to track foreign visitors to the United States.
The Department of Homeland Security (DHS) announced Tuesday that the Accenture-led Smart Border Alliance had won the five-year contract, which may be extended to 10 years. DHS Undersecretary Asa Hutchinson said at a press conference that the contract, which has a wide value range of $1 million to $10 billion, likely will be "a billion-dollar deal" by the time it is completed.
The Accenture group — with subcontractors including Dell, AT&T, Sprint and Raytheon — beat out alliances led by Lockheed Martin and Computer Sciences Corp. to win the contract. CSC softened the blow by announcing a $1.6 billion deal to take over Sears Roebuck's computing infrastructure.
The DHS contract calls for the alliance to design and build a massive expansion of the U.S. Visitor and Immigrant Status Indicator Technology, known as US-VISIT for short. The system eventually will be installed at 400 ports of entry in the country, including the busiest airports and seaports as well as border crossings with Mexico and Canada.
Tracking 'Visitors'
The controversial system is described by DHS as a way to make it easier for non-citizens to enter and travel within the United States, assuming they have valid visas, but it has been criticized for its potential for invasion of privacy. The system currently relies heavily on biometric tools, such as digital fingerprint scans and digital photographs, but the Accenture plan calls for additional cutting-edge tools, such as radio frequency identification, to be implemented as the system expands.
Stephen J. Rohleder, chief executive of Accenture's Government operating group, said the company will rely heavily on its subcontractors' experience in integrating large-scale technology platforms.
Among the first goals will be to "modernize or replace existing computer systems, introduce new border-management processes, and implement a long-term strategy to help position DHS to address future challenges," Rohleder said in a statement.
The group has its work cut out for it, because Congress has mandated the new system be in place at the country's 50 busiest land ports of entry by year's end. Although some biometric scanning stations are already up and running, most locations will need to have new technology put in place, Accenture said.
Cost an Issue
Accenture, formerly known as Andersen Consulting, won on the strength of its proposal, which relied heavily on radio frequency identification technology as well as pricing for the first two phases of the bid, Department of Homeland Security spokesperson Kimberly Weissman told the E-Commerce Times.
Although Weissman did not disclose the value of the losing bids, she said Accenture bid $72 million for the first two phases of the contract.
Weissman said DHS is eager to expand the US-VISIT program because of early successes, with the pilot program processing more than 4.5 million visitors and resulting in the capture of some 500 convicted criminals or criminal suspects.
Behind in Biometrics
Gartner research vice president Richard Hunter said the task will be a complex one, as many foreign countries have been slow to adopt the kind of biometric identification tools the United States wants to use at its borders.
"Few countries have a greater sense of urgency about adopting biometrics than the United States," Hunter told the E-Commerce Times, adding that many other countries still do not have the baseline of fingerprint information needed.
Other technologies, including face- and iris-scanning, though being tested at some U.S. airports, are still in their nascent phases, he noted.
Accenture's willingness to look at other technologies may have been one reason it won the bid. The firm has been working with private companies on RFID initiatives for some time.
Impact Unknown
Most of the analysts who follow Accenture said they believe the deal will have little short-term effect on the company's earnings. Even so, most seem to view it as a positive for the company, which saw its shares rise 3 percent Tuesday after the deal was unveiled. The impact on subcontractors, such as Dell, is harder to gauge, as it may be some time before Accenture begins actual infrastructure work.
Accenture said it has yet to select software partners for the project. However, the company last week announced a worldwide effort to work alongside Microsoft to develop what are being billed as "solutions blueprints" for public-sector agencies.