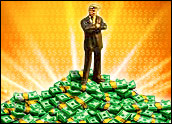 More than a decade after they first rushed to search for exit-strategy gold in the e-commerce niche, venture investors are still finding plenty of early and mid-stage companies to back in the space.
Often, however, the deals are more modest in size than they were when the dot-com bubble was building and the businesses themselves are being built in a more quiet, workmanlike way, eschewing spending millions on acquiring customers and instead creating solid foundations on which to grow more steadily.
Internet-focused venture investments rose 17 percent in the third quarter of 2007 compared with the year before and more than US$1 billion has been sunk into the sector for four of the past five quarters, according to a recent PricewaterhouseCoopers/National Venture Capital Association MoneyTree report.
Diversifying Investments
Last year, "we saw venture capitalists diversify their investments across various industries more," Tracy Lefteroff, global managing partner of the venture capital practice, PricewaterhouseCoopers, told the E-Commerce Times. "Software and biotechnology remained the top categories, but investors seemed to be more optimistic that solid opportunities are available elsewhere as well."
The interest in the Web sector — with search marketing and social networking leading the way — helped put 2007 on pace to be the best funding year since 2001, Lefteroff added, another year marked by solid interest in the Internet economy. Just as then, e-commerce remains a favorite play of many investors, with even companies trying to elbow into what seem like crowded niches garnering their share of venture backing.
Luxurious Tendencies
A near-torrent of venture funding found its way into the coffers of luxury e-tailers — many of them born during the last days of the dot-com bubble — during 2007.
Ice.com focuses on selling diamonds and took in one of the year's largest venture hauls, with $47 million coming from Polaris Ventures and others.
Another luxury site earlier in its evolution received a $3.8 million capital backing in December. Ideeli got its first round of venture funding from Kodiak Ventures and others to expand what is still an invitation-only luxury shopping site.
Also bagging funds was Bag Borrow or Steal, another luxury site that focuses on high-end handbags and related merchandise. Bag Borrow or Steal landed $15 million over the summer to expand its unique business model, which allows users to rent handbags and either return them or "steal" them by paying an additional fee.
Many companies in the luxury sector has proven adept at attracting affluent customers and delivering a top-notch customer experience, Forrester Research analyst Carrie Johnson told the E-Commerce Times.
"Investors know that companies that can find traction with that demographic can be very successful," Johnson said. "A lot of attention is being paid to that segment now that consumers have shown they'll buy even high-end luxury items site unseen over the Web."
Old is New Again
Other names and ideas from the first dot-com wave were among those landing venture backing last year, including Cooking.com, which scored $7 million from Orix Venture Finance and others.
Another dot-com throwback is PetFoodDirect.com, which raised $10 million in June. The site actually predates the 2001 e-commerce shakeout and is now a key Amazon.com partner.
Ten years after the first Web travel sites arrived, investors are betting there is still room in that already crowded niche. Claremont Creek Ventures and Garage Technology Ventures backed online travel site cFares with $4.5 million in July.
What makes cFares unique is its "disruptive business model and defensible intellectual property," said Nat Goldhaber, managing director of Claremont Creek Ventures. The company has also negotiated almost unprecedented access to airfares.
"It addresses the needs of both airlines and travelers by taking advantage of major changes in airfare distribution," Goldhaber added.
Money on Trees
New ways to enable consumers to track and manage their money were also popular avenues for venture backers during 2007.
In October, mFoundry raised $15 million for its mobile financial services platform, with backers including eBay's PayPal, Motorola Ventures and NCR.
Mint.com also scored a small mint of cash last year, raising $4.7 million for its online money management platform in October.
Shasta Ventures backed the site, which went live last year and which enables users to manage their entire financial lives from a single interface.
Another financial services firm received a large sum of cash, with money transfer site Xoom.com landing $20 million from DAB Ventures, Fidelity Ventures, New Enterprise Associates and Sequoia Capital over the summer.
The service enables money to be sent to anyone, even those without online accounts, around the world, and is expected to be used heavily by foreign nationals living and working in the U.S. who send money to their families abroad.
One of the year's largest venture takes in the space went to Revolution Money, a site that is promising to remake the credit card business in a more secure way. Citi, Morgan Stanley and Deutsche Bank were among those backing the startup with a $50 million round.
Despite the national housing slump, online real estate ventures continued to garner venture backing. Zillow.com, real estate value comparison site, raised $30 million in September, with backing coming from Legg Mason Capital and others.