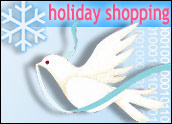 It's beginning to look a lot like Christmas — at least on major retailers' Web sites. Banner ads are popping up on major e-commerce sites — including Amazon.com and Wal-Mart.com — highlighting top-selling computers, DVDs, toys and consumer electronics items as well as offering hints to help shoppers find something special for friends and loved ones. Yet while this year's online sales are once again expected to set new benchmarks, identifying this season's product and promotional hits is not as easy as it was in 2006.
Last year was a strong one for retailers because a few highly touted products were just making their way to market. Sony's PlayStation 3 and the Nintendo Wii had consumers frantically banging away at their keyboards or sleeping in store parking lots in order to purchase these high-demand products of low availability. In fact, an Amazon.com promotion focusing on low priced PS3s was so well received that consumers knocked the company's Web site offline.
The video game market is expected to again drive traffic to the big e-commerce sites. To get a jump on the holiday spending, Microsoft announced the latest version of its popular "Halo" video game for the Xbox 360 in September. In October, Sony announced a bundling of the "Spider-Man 3" DVD with a 40 GB version of the PS3 as well as cutting the price of its 80 GB system.
In Search of a Runaway Hit
No consumer electronics device is expected to create the buzz that the consoles have in the past few years. The closest is Apple's iPhone, which has been out since June and continues to generate a great deal of buzz.
For those e-commerce vendors searching for a new solid product rather than a megahit, i-Sing from the consumer electronics and toy company Outrageous is garnering attention. The device is a specialized MP3 player that functions as a handheld karaoke machine.
A number of other items also are expected to sell well. Elmo has been a favorite among children for many years, and last year's 10th anniversary Elmo, dubbed "T.M.X.," was one of the Christmas season's hottest toys. Elmo has become such a holiday staple that details about this year's model are being closely guarded with a much anticipated unveiling by Fisher-Price on Nov. 8.
Toys for Grown-Ups
Discretionary products for grown-ups are also popular during the holidays. "Jewelry was a big seller for us last year and something that we are emphasizing again this year," noted Geoff Atkinson, marketing chief of staff at Overstock.com. "A few years ago, consumers would have been leery of spending a few thousand dollars during an online transaction. Now, they do not bat an eye."
Deep-pocketed customers are often drawn to technology-based products. "Digital photo frames, digital cameras, laptops and GPS systems are products that we expect to do well this year," said Chris Madaus, vice president of marketing for Staples Business Delivery. Home entertainment systems have been popular in the past few years. Prices for high-definition TVs have been falling; that's one reason why companies such as Best Buy have fared so well recently.
Once consumers purchase HD TVs, their living rooms become virtual movie theaters displaying the latest popular releases. Harry Potter has been a favorite of Amazon.com, and the 2.5 million copies sold of the latest book, Harry Potter and the Deathly Hallows, represent the company's largest new product release ever. The most recent movie, "Harry Potter and the Order of the Phoenix," is expected to be available during the holiday season. Last summer was filled with sequels, so during the holiday season "Shrek 3," "Spider-Man 3" and "Pirates of the Caribbean: At World's End" should be flying off of the shelves at e-commerce warehouses.
Christmas Before the Leaves Turn
The wide variety of items being touted underscores the holiday season's importance. Because it represents such a significant portion of their overall revenue, many retailers have been starting the holiday season earlier and earlier each year. Some e-tailers, such as Bath & Body Works, started running holiday promotions in October.
Wal-Mart began discounting its holiday items at the end of October, reducing prices between 10 to 50 percent on a select number of toys. The first round cut the prices of Tonka Trucks to US$19.76 from $27.44, Kid-Tough Digital Camera to $54.88 from $64.88, the FurReal Squawkers Parrot to $54.88 from $69.96 and the "Are You Smarter Than a 5th Grader?" game to $12.88 from $18.96. The retailer plans to announce new discounts every week through the holiday shopping season.
As a result of such promotions, the traditional holiday calendar has been changing. "Our peak holiday selling days are about the same every year, but they do not align with retail's Black Friday or Cyber Monday — although these are still big days for eBags," said Jonathan Fox, director of backpacks and sports at eBags.com. "For the past few years, eBags peak days have fallen during the second week of December."
Picking Up the Shipping Costs
Selecting an item is only part of the purchasing process. Traditionally, shipping charges have been a deterrent for online shoppers. "Free shipping is becoming much more common among e-commerce sites," said Patti Freeman Evans, senior analyst at market research firm JupiterResearch.
In addition to offering free delivery and the latest and greatest products, the e-commerce giants are trying to beef up help behind the scenes. In October, Amazon.com added 200 full-time and part-time customer service positions to its Grand Forks, N.D., customer service center to help keep pace with holiday traffic.
This focus is in line with a few fundamental truths that retailers need to remember during the season. "The most important thing for our customers is that they, one, receive great customer service and, two, receive their package on time for the holiday," Fox told the E-Commerce Times. "Without those two things, nothing else a retailer does really matters."