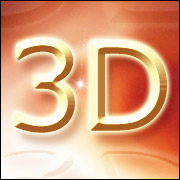 This story was originally published on June 21, 2013, and is brought to you today as part of our Best of ECT News series.
If you're perusing Staples' website anytime soon looking for boring old printer cartridges or what have you, you may be surprised to see, in the Narrow by Department panel, a listing for 3D Printers.
A 3D printer, for the uninitiated, is a device that's capable of producing a three-dimensional object from a digital design. It uses something called "additive manufacturing" — a layered process that bears some similarity to the way an ink-jet printer sequentially layers its colors on a flat piece of paper. In this case, though, the layers are plastic that acquire mass as they accumulate.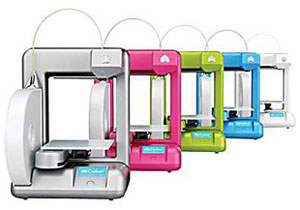 Cube 3D Printer by 3D Systems
The inclusion of Staples' desk-top sized device in its catalog is a big deal, because this is the first time that we've seen 3D printers sold alongside regular printers — and aimed at the home office and small business market. What's just as surprising is an entry point of around US$1,300 plus consumables — arguably affordable.
3D printing has been made famous in recent days due to the launch of the world's first 3D-printed gun design. Soon after instructions for printing it were published, the U.S. State Department demanded they be removed from the designer's website.
However, products that can be 3D printed include iPhone cases; collectible Android-like figurines called "Bugdroids"; jewelry; lighting; shoes and bags; doorknobs and guitars.
Designs – Not Things – for Sale
Here's where 3D printing, might one day blow away manufacturing of the kind we've been used to since the Industrial Revolution shook up agrarian life in the early 19th century: 3D printing is creating a market in designs that are meant to be printed by the buyer — or a third-party manufacturer unrelated to the designer.
The end product isn't sold — it's the design that's sold, along with a license for it to be printed. It's like the demise of hard copies in the book, music and video industry — the intellectual property is all.
Buried in corners of the Internet are marketplaces where budding designers are selling their plans for printing at home or in the workplace. Customers can use their own printers or they can buy the design and have it printed on the marketplace's printer and then delivered.
The printer offered at Staples is the Cube, made by 3D Systems, which pitches its Cubify website as a marketplace with departments such as Home, Fashion, and Toys & Games. For example, a 2×3-inch planter in the Home section, designed by Phroid, runs $5.00 if you print it yourself. Alternatively, you can pay $40.55 to have it made to your materials specification and color.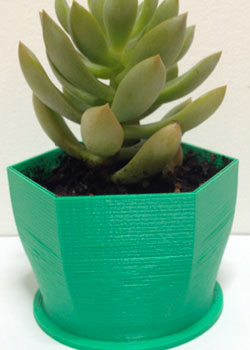 Small Hex Planter by Phroid
Buildling Buzz
3D printing hasn't reached the mainstream acceptance point, but it's definitely coming out of the shadows.
"At this point I can only say that consumers do feel more comfortable purchasing actual tangible products than downloading a design file and having to decide which material and at what cost to create it," said 3D designer Asher Nahmias, also known as "Dizingof," who sells on the Ponoko.com marketplace.
The self-printing product market will expand, though, he predicted, and it would be logical to assume that as printer prices come down and they become more accessible, that this will be the case.
"This revolution of personal manufacturing will only expand with each year, and I have seen the buzz and growth of this market over social networks, media, and download indicators," Nahmias told the E-Commerce Times.
One marketplace and community for buying, making and selling is Shapeways, which provides tutorials and information on how to create and model a design — and then accepts an upload. The designer chooses materials and gets pricing, and then Shapeways fabricates the order and ships it.
"We've been introducing new materials — like sophisticated plastics, metals and ceramics — to expand the possibilities of what can be made," Shapeways spokesperson Elisa Richardson told the E-Commerce Times.
New Meaning for DIY
Sculpteo reckons it has invented a new form of e-tailing by enabling designers to sell customized 3D printed objects directly to consumers and enabling e-commerce websites to become real manufacturers.
Sculpteo's 3D-printing Cloud Engine eliminates the need to use third parties to promote, market and manufacture goods that are directly delivered to consumers, as they can easily operate their own online shop directly from their own website.
"Sculpteo's aim is to democratize 3D printing and make it available to everyone," company spokesperson Imogen Bailey told the E-Commerce Times.
RoBo 3D is a Kickstarter project that aims to make a $599 3D home printer. The project achieved 1,251 backers who pledged $649,663 toward a $49,000 goal — it is consequently funded.
"At RoBo 3D, we see bringing 3D printing to the world of manufacturing, [providing] specific molds for producing different products in your home to enhance manufacturing in the U.S.," Braydon Moreno of Team RoBo 3D told The E-Commerce Times.
Both Shapeways' Richardson and RoBo 3D's Moreno are keen to stress their U.S. manufacturing emphasis, with Shapeways opening a factory in Queens, New York, that Richardson reckons will reduce shipping costs. Moreno's product brings the manufacturing in-house — literally.
Staples thinks its 3D printer product provides faster-to-market prototyping for regular products.
3D printing can make it easier for companies to design and test new concepts, and decrease products' time to market, according to Staples.
All this raises a big question: At the point when we have cheap 3D printers in most homes — at the same saturation level as ink-jet printers, say — will we even have products to sell, or will we just be selling product plans digitally, to be downloaded and manufactured on the desktop? For e-commerce, it could mean a U-turn.
Designers, Collections and Design Houses
3D Markets