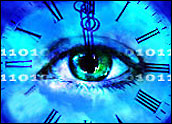 From the apparently sudden arrival of Web-based video distribution options to the growing sophistication of TV-like advertising online and the social networking phenomenon, theInternet drew attention and dollars away from newspapers, TV and radio in 2006.
This coming of age did not take place overnight. Web-based video has been discussed and planned since the modern Internet's earliest days — and social networking became a legitimate force when traditional media players finally invested in it.
The trends that are leading cable companies andtelecommunications firms to a head-to-head competitive crash have been decades in the making, with the 1980s breakup of the telephone monopoly paving the way.
"Big technology changes always take longer than we think, but then when they happen, they happen bigger than anyone expected," saidJupiterResearch analyst David Card. For now, Internet video remains in the still-evolving phase, he added, and the current dramatic changes have set the stage for bolder moves in the year ahead.
TV or no TV?
It started as toe-dipping, with TV networks cautiously posting short clips of news programs and other content on the Web. Then ABC got into the act, letting users download some of its top prime time shows via Apple's iTunes Movie Store.
Other networks followed suit, with some establishing their own online outlets and others using existing distribution channels. By year's end, users could watch prime time sitcoms, hour-long dramas and even full-length movies online.
IPTV, or Internet Protocol television, has long been seen as a killer application for the Internet and gives users an increasing number of ways to find desired content. The limitations have been lifted — first with broadband access becoming ubiquitous and, more recently, with technology that lets users transfer Internet-based video to TV sets.
The Internet remains something of a frontier, with content owners testing various approaches to determine the best use of the medium. In early November, for instance, NBC streamed a Web-only version of the sitcom, "The Office," including scenes that had been cut from the televised version.
"We're seeing an incredible audience reaction to the evolving digital extensions of our programming, and anticipate this being one of their favorites," said Vivi Zigler, the executive vice president of NBC digital and new media.
Disney, which has been at the forefront of the multiple distribution channel movement, recently announced a long-term video-on-demand distribution deal with Comcast to sell its digital content online.
Web Advertising Grows Up
The perceived arrival of watchable, usable Internet-based video appears to coincide — not surprisingly — with the maturing of online advertising. The latter will continue to look like TV advertising online but with increased control for the user and — potentially, at least — better targeting.
Online video advertising will be worth around US$410 million this year, a fairly modest sum. However, that figure represents an 82 percent boost over last year's $225 million take, eMarketer said.
By 2008, online video advertising will be a $1 billion per year market that will triple in size by 2010, to $3 billion, the research firm predicted.
The "hue and cry" has yet to be matched by spending, but it's only a matter of time before the money follows, eMarketer analyst David Hallerman told the E-Commerce Times.
"Advertisers have long favored television as theirmarketing medium, and extending that preference to the Internet is a logical leap," he said.
Social Networking: Fad or Future?
Not long ago, "networking" meant talking to friends and colleagues to find potential connections that could get a person ahead in life. It also could refer to the process of linking computers together. Today, at least on the Internet, "networking" almost always means "social networking."
News Corp.'s decision to buyMySpace in 2005 reverberated throughout 2006, especially when Google agreed to pay $900 million for the long-term rights to deliver advertising to this high-profile and controversial site.
MySpace has become emblematic of the debate over social networking. As it continued to grow rapidly during 2006, skeptics said "show me the money" whenever the subject of its long-term success was raised.
In Sept. 2006, RBC Capital Markets analyst Jordan Rohan created a stir by claiming that MySpace could be worth as much as $15 billion by 2009, a figure he based on current growth rates and other factors.
The fickle nature of MySpace's audience, though, has made its future less clear, said Outsell vice president Chuck Richard.
"Even when Murdoch made the huge bet on MySpace, there was already talk about people moving on to Facebook and other alternatives," Richard told the E-Commerce Times. So far, MySpace has continued to pick up users, but "if the youth demographic decides it's not cool anymore, the drop-off could be sharp."
Bundles of Joy
Meanwhile, the question of how users will obtain all these new media offerings is still being worked out by the marketplace. Heading into 2007, cable companies and traditional telecoms are both poised to offer blazingly fast access to traditional TV as well as IPTV.
The past year saw the consolidation trend in the cable and telecom space reach its apex, reducing the number of major telecom companies to less than five.
Clearly, anyone awakening after a long slumber would not recognize today's media distribution landscape. Some of the names may be familiar, but they're clearly not the same companies they were a decade ago.
In the past 18 months,AT&T was purchased by BellSouth, which then took on the "AT&T" name. Then the new AT&T reached out and purchased SBC Communications, a deal still making its way through the government's final approval process.
It is not a question of whether or not all media consumers will get their TV, Internet and phone from the same bundle. The question is who will be delivering that bundle — and when, said telecom analyst Jeff Kagan.
"That's the battle royal for the coming year and beyond," he said. "The past couple years were all about moving the pieces into place. Now the stage is set for the companies to duke it out."
Ultimately, consumers may be the winners, and companies might have to fall over themselves to offer both exceptional service and favorable pricing, Kagan noted.
Conversely, the consolidation trend may not be that good for consumers.
For example, the year will end without any legislation guaranteeing so-called net neutrality. Despite lobbying pushes from Google and other high-profile Internet companies, legislators stopped short of requiring that telecom and cable companies guarantee all content be given equal access to their high-speed networks. The potential for problems may lie ahead.
Amid all the changes, one thing that is clear about the new media landscape: The Internet has moved itself squarely into the living room — and, in the process, found itself at the epicenter of competitive and legislative battles.