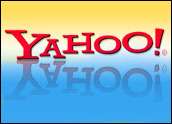 In the wake of a fourth-quarter report that showed a drop in profits and an outlook that disappointed investors, Yahoo said Tuesday it will cut 1,000 workers from its payroll as CEO Jerry Yang attempts to reinvigorate the portal he cofounded.
Yahoo's fourth quarter profit of US$205.7 million, or 15 cents per share, handily beat Wall Street expectations of 11 cents, but revenue was $1.8 billion, in line with analyst forecasts. Net income was down 23 percent from the year before, while revenue rose 8 percent.
As with other high-tech companies — including Apple and eBay — Yahoo was done in by its outlook, which fell below analyst expectations. Yang, who took over as CEO at Yahoo midway through 2007, pulled no punches, saying plenty of challenges remain ahead as the company tries to compete for online marketing dollars with Google.
'A Unique Window of Opportunity'
"This a pivotal time for Yahoo's business, and we have a unique window of opportunity right now to make the necessary, game-changing investments that will help us capture a significant piece of the growing ad market and create substantial long-term value for our shareholders," he said. "While we will continue to face headwinds this year, we believe that the moves we are making will help us exit 2008 stronger and more competitive."
One of those moves is the payroll reduction, which has been rumored for well over a week and will represent about 7 percent of Yahoo's 14,000 workers. The cuts will take place by mid-February, and will be targeted in certain areas of the business, with resources freed up and shifted to more strategic areas.
"This is a necessary step in our transformation," Yang noted.
Investors pounded Yahoo shares in after-hours trading late Wednesday. In morning trading Thursday, the stock was down nearly 9 percent to $18.95. In early 2006, the shares traded above $40.
Forecast Disappoints
Yahoo forecast first-quarter revenue of $1.28 billion to $1.38 billion, while analysts had expected $1.36 billion on average. For all of 2008, the portal projects $5.35 billion to $5.95 billion; analysts had called for $5.9 billion.
Yahoo expects to absorb a first-quarter charge of $20 million to $25 million to pay for severance costs and other expenses incurred in the layoffs.
The restructuring is part of a larger strategy to align Yahoo around three objectives: to become the starting point for consumers using the Web; to become a "must buy" outlet for advertisers; and to attract more third-party developers to its Web and mobile platforms, Yang said.
Even though it likely won't be able to make up much ground on Google in search, Yahoo has plenty of assets to leverage, Sterling Market Intelligence Principal Founder Greg Sterling told the E-Commerce Times.
"There's a sizable audience for whom Yahoo could be the most vital and complete site on the Internet," he said. "And even though Yahoo is actually ahead of Google in mobile in many respects, the Google brand right now has greater strength among power users and early adopters."
Behavioral Targeting
Yahoo's role could be to help people manage the flood of Internet content they are facing, though it still needs to better develop a social element to have all the offerings users want, Sterling added.
Yang's mission is to turn the sprawling Yahoo "ecosystem" into more of a marketplace, and that will take time, said JupiterResearch analyst David Card. While the much-ballyhooed Panama search ad platform has yet to close the gap with Google, Yahoo still believes it can offer ads based on behavioral targeting that can significantly boost the revenue it makes from searches and ad placements. It also flirted with purchasing a social networking site, but has insisted it has the pieces in place in-house to capitalize on that trend itself.
"Yang said there were no sacred cows heading in to his 100-day evaluation of Yahoo," Card told the E-Commerce Times. "It's equally clear that he's found no quick fixes along the way as well."
Yang claimed his efforts to refocus Yahoo are already paying dividends, citing a 21 percent increase in marketing services revenues on Yahoo-owned and operated Web sites, with both search and display ad sales increasing in the fourth quarter. By contrast, revenue from ads on third-party affiliate sites was down 13 percent.
Continuing to invest is necessary, Yang said. "As an Internet leader, we have the unique opportunity right now to get ahead of the curve and capture significant share of the market's growth," he added.
Yang also announced that Yahoo had named Ari Balogh, the former chief technology officer at VeriSign, as its new CTO to help focus investments on new technologies.
The Anti-Google?
Yahoo's main Web rival, Google, reports earnings on Thursday, and it's widely expected to show gains, some of which came at Yahoo's expense. Yahoo saw gains in unique visits and the number of minutes users spent on its sites, but Google continued to dominate search, accounting for 56 percent of all U.S. searches in December, compared with 18 percent for Yahoo, according to data from Nielsen Online.
A key question will be how patient investors are with Yahoo. Yang has signaled that 2008 will be a mixed year and tried to focus attention on how Yahoo emerges from the year and heads into 2009, Sterling noted, when strong growth could return. Would-be buyers — Sterling thinks longtime Yahoo partner AT&T, with whom Yahoo announced an expanded partnership on Wednesday that includes mobile tools, could be a bidder — will be among those watching closely, he added.
The Yahoo reorganization actually predates Yang's return to the CEO seat and dates to late 2006, noted Forrester Research analyst Charlene Li.
The mission of Yahoo is to convince users to turn over more of their everyday lives to the portal the way many are now doing with Google, by using online tools such as calendars and Google Docs.
"Yahoo has a very broad reach on the Web, and tens of millions of people use its sites every day," Li told the E-Commerce Times. "It needs to get those relationships to go deeper and be more meaningful."