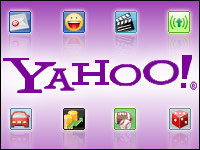 Yahoo hasn't been playing around when it comes to acquisitions. Its latest, announced Tuesday, isPlayerScale, which makes software infrastructure for cross-platform gaming.
"Today we acquired PlayerScale. The team has built an incredible gaming platform that is used by over 150 million players worldwide," said Yahoo spokesperson Lauren Armstrong. "We intend to continue to support and grow PlayerScale's technology, and we look forward to building great new experiences on Yahoo! using the PlayerScale platform."
The financial details have not been disclosed.
Going for the Gamers
Four-year-old PlayerScale has built a sizable audience — reportedly some 150 million players — and it could fit well with the new direction that Yahoo is trying to carve out for itself.
"This deal is intriguing for a couple of reasons," said Charles King, principal analyst at Pund-IT.
"First, this is a people-driven deal in that Yahoo recognizes that the PlayerScale team is as important as the company's technology," he noted.
"In addition, the company's focus on developers — whose games its platform supports — could prove to be a future resource for Yahoo," King told TechNewsWorld. "Finally, the sheer volume of audience growth that PlayerScale is driving is remarkable and could prove highly valuable over time."
It also could draw in gamers, even if the gamers don't immediately see the Yahoo connection.
"It is something that is of use to smaller developers and publishers," said video game and social media analyst Billy Pidgeon, particularly for the data analytics benefits.
A Strong Backbone
The PlayerScale tech is especially amenable to cross-platform gaming, an area in which Yahoo has indicated particular interest.
"It can authenticate games, for one thing," Pidgeon told TechNewsWorld. "This makes it useful for games that are on mobile as well as Facebook."
That's another potential boon for smaller game publishers and developers.
"Typically, only the larger companies have had the backbone to support such initiatives," Pidgeon noted. "With PlayerScale, this could allow the addition of multiplayer components to games as well."
Other functionality that it could bring to the gaming table includes a payment feature, which "could allow Yahoo to work with indies and small developers, and could also be a test to see if there is a way to power Yahoo games," said Pidgeon.
However, this doesn't come without some baggage.
"Where it could be an issue is with any app store or network service where the competition is involved," Pidgeon added. "AOL or another service might not want to support those games."
Latest Acquisition
The PlayerScale deal, which comes just after Yahoo acquired social media site Tumblr for US$1.1 billion, is the company's 12th acquisition since Marissa Mayer took over as CEO.
"It looks like it is good buy — Yahoo has bought some interesting pieces of late," observed Pidgeon.
"Everyone is giving them digs for buying Tumblr, but they have bought some other companies that have proven to be very useful. A lot of the smaller stuff makes a lot of sense considering Yahoo's place in the market," he added.
As Yahoo is now positioned, the risks could outweigh the rewards.
"Yahoo has to do it — if they don't they remain irrelevant," Pidgeon emphasized.
"While every deal carries certain risks," added King, "this seems like a gamble that could pay off very well for Yahoo."