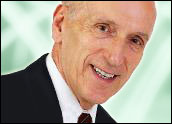 As most of us are aware, the textile genie is out of the bottle. Global quotas have now been lifted on China's textile exports.
Is this a bad thing? Here's what Cass Johnson, the president of the National Counsel of Textile Organizations, recently said about this situation: "The wolf is at the door and only the U.S. government can slam it shut, and it needs to do it right now. The action the government takes or doesn't take will affect 30 million workers around the world and perhaps half a million in this country."
The already devastated U.S. textile industry, in my opinion, is looking upon its devastation and possible demise. Quotas were lifted Jan. 1 of this year. And, according to the Bureau of Labor Statistics, 12,200 jobs were lost in our apparel and textile industries in that month alone. Sounds pretty bad to me.
Dynamics at Play
Exactly why is this happening, and can it be remedied? In my recent article, "The Dollar's Falling! Does It Really Matter?," I go into some of the worldwide dynamics that are affecting the value of the dollar and how it is influenced by world trade.
This article will specifically look at the profound impact of developing nations upon the world economy and on our economy in particular.
Let's use China as an example. China has been light-years behind the world, economically, for as long as anyone can remember. Its current leaders realized that they were sitting on a gargantuan, untapped resource: cheap labor. With their enormous, largely unemployed and underemployed population, China had tremendous economic reserves that had gone untapped for centuries.
It saw this as its ticket into the world economy of the 21st century. It focused its efforts on investing billions of dollars and the Chinese equivalent, the yuan, into capital improvements. These massive investments are beginning to pay off.
Coupling these investments in capital with its human "capital,"China was able to create an enormous economic engine that will be changing the world for years to come. We cannot escape this reality and must somehow learn to live with this new economic giant and compete more effectively with it.
Would Economic Sanctions Work?
One might ask why we don't apply economic sanctions to the Chinese in order to level the playing field. The problem with this approach is that it might work in the short run, but it would only delay the inevitable: the emergence of an economic giant that will have an inordinate amount of clout in the world economy.
You see, there are other "Chinas" out there, other countries that have a large unemployed population. The people of these countries will welcome almost any type of work at just about any hourly wage. They are just waiting for their governments to provide the capital and infrastructure, without which jobs cannot be created.
Therefore, we must think of something more permanent than economic sanctions.
What's the Remedy?
How can we effectively compete with labor that is, excuse the expression, "dirt cheap?" There are several answers to this question. The simple one is that our labor force, per se, cannot economically compete with the labor force of developing countries.
It took decades for the U.S. worker to achieve the economic success that he or she has today. This success has come at a cost: U.S. wages are substantially higher than wages of developing countries. And, there is no going back.
What we have to do is wed our workforce with our exceptional technological capabilities so that the cost of a unit of production here in the U.S. is roughly equivalent to that of a developing country.
An essential factor in this process is the development of the most competent and efficient workforce in the world. How do we accomplish this? By investing more money in training our people.
This is the only long-term solution that I can think of — a highly skilled workforce coupled with technologically advanced industries. The only other alternative is not to compete at all. That would be tantamount to giving up. And, we Americans just don't give up.
What's Stopping Us?
What's to stop us from competing effectively with countries like China? There are several factors that we must consider. Besides the money that we must invest in our workforce to make it the most effective in the world, we must stop exporting our technology to developing countries that then use it to compete with us.
How are we doing this? We are outsourcing not only jobs, but also our technologies. When we outsource jobs, in many cases we are providing the indispensable technologies to make these jobs effective. Once these technologies are exported, they are gone forever.
Will the situation improve?
Actually no, not unless we do something specific to make it improve. We can expect more and more economic awareness and aggressiveness from developing countries. And, we can expect their governmental leaders to actively foster such activity.
You must realize that the leaders of these countries are put under increasing pressure to improve the economic conditions of their citizenry. Otherwise, their lives as well as their jobs could be put into jeopardy.
Therefore, we should not expect any "magic" world events that will take us out of this pickle. We must do it ourselves.
Undeclared 'Economic War'
Can we extricate ourselves from this dilemma?
I firmly believe that we are the most resourceful country in the world. We have a motivated workforce that, when married to our great technologies, is absolutely unbeatable.
Is this wishful thinking? Absolutely not! The computer giant Dell manufactures the vast majority of its products right here in the U.S. with minimal outsourcing. And, they are doing it with the most efficient production techniques in the world.
So you see, it can be done. We are in an undeclared "economic war." We must prevail, and we will.
And, good luck!
---
Theodore F. di Stefano
is a founder and managing partner at
Capital Source Partners
, which deals in bringing small-cap companies public. He also is a frequent speaker on the subject of financial advice for small businesses as well as the IPO process. He can be contacted at
[email protected]
.
---