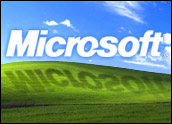 For the second time in four months, Microsoft said it would buy a privately held firm developing Voice over Internet Protocol (VoIP) technologies, this time with an eye toward adding more communications tools to its Office productivity suite.
Microsoft said it would pay an undisclosed sum to acquire Zurich, Switzerland-based media-streams.com, a software firm that develops communications applications that use VoIP technology.
The software giant said the new buy would be used to speed delivery of a "unified communications vision" that blends e-mail, instant messaging and voice as well as audio, video and Web conferencing.
"Integrating voice communications with the rich collaboration capabilities of the Microsoft Office System will enable exciting new collaboration scenarios that will improve individual and team collaboration," said Anoop Gupta, corporate vice president of the Real-Time Collaboration Group at Microsoft. "The acquisition accelerates our ability to deliver on our vision of unified communications."
Analysts said the chat tools were most likely to appear first in business-targeting tools such as the Microsoft Office Live Communications Server software. That server tool already has a direct PC-to-PC chat function, which could be expanded to include PC-to-phone and phone-to-phone talking with the new applications.
Second Time Around
Media-streams CEO Erich Gebhardt said his firm is in "lock-step with Microsoft's vision of bringing voice and data collaboration together." He said that having the power of Microsoft behind the firm's tools would enable them to reach larger audiences, as the firm currently focuses mainly on the small and mid-sized business market.
Media-streams is Microsoft's second major IP voice buy this year. In August, it snapped up Teleo, a San Francisco VoIP software maker whose tools are now being worked into the MSN Messenger platform to add additional voice chat capabilities.
Microsoft's motivations to be a player in VoIP are not hard to discern. According to In-Stat, the market for VoIP calling was worth around US$230 million last year but will balloon to $4.8 billion within four years.
While major telecom companies are expected to win the lion's share of that revenue over time, analysts say there is enough room in the market for many different vendors and approaches to thrive.
Baking it In
Ovum analyst John Delaney noted that Microsoft's first VoIP purchase this year came shortly after Google announced its efforts to establish a voice platform called Google Talk.
The latest could also be read in the same light, he said, since Google's efforts to integrate voice chat between computers and traditional phones would integrate VoIP into Web services, while Microsoft's approach could put it even deeper into users' PCs by installing it directly in desktop applications.
"There's definitely more of this jostling to come," Delaney said. "Everyone with exposure to communications tools or the Internet will develop or purchase technologies they think will outdo their competitors."
Though targeted initially at enterprises and business users, such an approach could eventually be made to work for consumers by creating a single platform that combines e-mail and instant messaging with robust voice calling, he added.