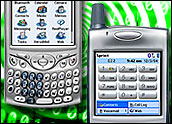 A bid to use converged technologies to greatly expand the options for connecting via mobile devices and help carriers keep customers happy has gotten a boost.
Alcatel used the Superdome 2005 telecom conference to announce that it will offer a version of what's known as Unlicensed Mobile Access (UMA) that works with both WiFi technology and the proprietary Bluetooth wireless access protocol.
At the same time, Nokia said it would integrate the WiFi version of UMA into some of its phones and would test a dual-mode service with a carrier in its home country of Finland.
Unlicensed Spectrum
Alcatel, the network equipment maker, said it will offer network operators access to the technology, which in turn will enable them to offer their subscribers a wider range of choices for accessing various mobile services, including mobile voice over Internet protocol (VoIP) calling, data services and mobile commerce.
UMA makes use of the parts of the wireless spectrum that are not licensed to individual carriers and can enable the handing-off of phone calls among various protocols, with, for instance, a WiFi network taking over when the main cellular network is unavailable.
It can also enable users to do more with a single device, Alcatel argues, which in turn will drive more revenue for mobile network operators.
"This solution provides attractive new business opportunities for operators ready to leverage the new 'one user/one device' paradigm," said Marc Rouanne, chief operating officer of Alcatel's mobile communications activities.
Blue in the Tooth
The firm said the solution would be a boon in both rural areas, where calls could be handed off to local WiFi networks where wireless networks don't reach and in urban areas, where users can avoid the problem of having calling services unavailable inside large buildings.
As a result, mobile carriers could grab revenue from calls that are currently being made on land lines and keep subscribers from jumping to competitors by offering mobile services as they become available.
Users will need so-called dual-mode handsets that operate both on traditional cellular networks and on UMA to use the service.
UMA has been eyed before as a way to augment existing wireless networks without the often sizable investments of building them out further. British Telecom is about to launch a UMA-friendly offering that uses Bluetooth, an offering known as Bluephone.
However, many analysts believe WiFi is the better long-term option because it is more ubiquitous, with access points having popped up over the years to offer public Internet access and many cities and even small towns discussing community-wide WiFi networks to enable Web access for all.
Changing Places
The technology has the potential to further disrupt the telecom marketplace, which is already experiencing upheaval amid deregulation and consolidation.
"The only certain thing is that the telecom landscape in a few years will look very different than it does now," industry analyst Jeff Kagan told the E-Commerce Times.
The dual-mode wireless world offers another wrinkle on those changes and potentially another threat to legacy land-line phone companies. Those firms are already seeing their subscriber eroded by two factors — the decision by some consumers to use their mobile devices as their primary phones and the arrival of cheap VoIP service.
"Giving users even more flexibility with their wireless phones will only create more options and more competition for those same subscribers," Kagan added.