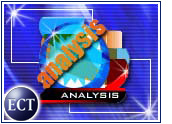 You know the price wars that occasionally break out between gas station owners on opposite corners of an intersection? Well, the same type of price wars may break out on the Internet because of product comparison Web sites and attendant shopping "bots" that purport to give consumers the lowest price for products on the Web.
Even if online stores do not have open battles like their neighboring gas stations, the name brand strategies that the e-tailers are trying to pursue, as well as their profitability, could well be undermined by comparison shopping sites.
How Fast Will It Happen?
Comparison sites such as MySimon.com, Dealtime.com and bottomdollar.com are already giving shoppers an alternative to going to a specific site or to an e-mall. The shoppers go to the comparison sites first to find the best price on specific items before buying.
Other new sites, such as San Francisco, California-based startup Backflip.com, provide shoppers with price comparison alternatives. Backflip.com allows users to keep Web pages in individual folders for future reference, including the ability to gather pages for a quick price review.
The real impact, however, will almost certainly be in the future, as the present wave of new Internet shoppers becomes more familiar with these online price comparison alternatives and as shopping bots become more effective at searching for the lowest price.
Price Pressure Will Be Constant
Even if full-scale price wars do not develop, the efficiency of the Web could portend serious pricing problems as e-commerce develops. In the brick-and-mortar world, the physical time it takes to comparison shop makes it difficult for shoppers to do it efficiently.
The same is not true for the Web. Shopping bots have the promise of making it easy to compare prices from leading stores, opening the doors to a chilling future of constant pressure on e-tailers to keep their prices razor sharp.
Dilution of Branding Strategy and Cash Back Services
Branding is another area that will feel the impact of shopping bots. Online e-tailers without a brick-and-mortar presence are especially vulnerable. If shoppers use shopping bots en masse to find the lowest price for specific products, they will spend their time on — and give their allegiance to — the Web sites that offer shopping bot services, not to the merchant sites selling the products.
Cash back services from third party sites are a related trend. Online e-business rating service Bizrate.com and new startup ebates.com, for example, recently set up cash back rebate services where clicking through to an e-tailer from either of the sites can net customers up to 25 percent on purchases. The cash is paid quarterly.
The rebates come from the affiliate programs offered by the merchants themselves. Numerous merchants now have programs that pay commissions to sites that generate "click through" business. Bizrate.com and ebates.com are merely taking the commissions and passing them back to the shoppers.
While cash back services do not have the direct price war implications of shopping bots, they will dilute the value of e-tailer brands and also will have indirect pricing implications by forcing e-tailers to set up costly cash back programs in order to attract shoppers.