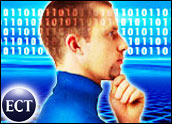 More and more companies are jumping into the Web analytics arena. In fact, Jupiter Research estimates the size of the Web analytics market will reach US$565 million in 2006.
Choosing a Web analytics firm, however, is not merely a matter of brand name or even price. There are three distinct options in the analytics world: client-side, server-side and hosted solutions. Before you launch out into the analytics world, you need to understand the pros and cons of each option for your specific business needs.
Let's briefly review the terminology. Client-side analytics tools are software installed on the user's computer. Server-side tools are installed on the Web site's server. Hosted solutions are, as their name suggests, hosted by a service provider on its server.
"There is value in all three types of analytics solutions — that's why I use them all," said Pedro Sostre, an affiliate marketer with 31 successful Internet properties, including iTravelmag.com, AudioBookDeals.com and EquestrianMag.com. "Hosted solutions mean I don't have to keep logs,client-side software allows me to track all my domains and server-side solutions are convenient, though not as comprehensive."
Client-Side Clues
Let's start with client-side software. Client-side tags capture data only for the pages you want to track. This reduces the amount of data you have to store or process. Client-side tags also act as an automatic filter, because they don't collect images and other kinds of hit data that you don't want to collect. This automatic filtering also helps reduce the size of your data files.
"Client-side tags can be implemented on your Web pages quickly and avoid problems of co-located servers and content served from multiple sites," Karen Breen Vogel, CEO and president of ClearGauge, an interactive marketing firm, and past chairperson of the American Business Media Internet Council,told the E-Commerce Times.
Because the script runs each time the page loads, client-side analytics software gives you accurate visit and page counts, even when pages are loaded from a caching or proxy server. Web server logs can help you obtain IT-based metrics such as spiders, downloads, bandwidth and errors. Client-side tagging can also help you get metrics like screen resolution and the number of Java-enabled browsers.
"Client-side data collection is good because it can collect a lot of information about the client itself, but on the other hand the client might have javascript and cookies turned off and then you'll collect nothing," Matt Sarrel, former technical director at PC Magazine Labs, told the E-Commerce Times.
The Case Against Client-Side
Sarrel mentioned one drawback to client-side analytics, but there are others. Client-side tags require additional hardware to run the data collection server, unless you use a hosted version. Client-side tags also require time or software to embed the script in each page you want to track.
"Unless error pages have the script embedded in the tags, you cannot track errors. If a browser is not enabled to run the scripts, you can only get page and visitor counts, not details about what was visited," Vogel explained.
Likewise, if a redirect page does not contain the script, it will not get counted. This could be crucial if you are using redirect pages to track advertisements. What's more, downloads are very difficult to track with client-side tagging.
"If a page load is interrupted before the script is run, the visit to the page does not get recorded," she pointed out. "If a crawler or spider does not run the script, which most don't, its visit is not captured. Without custom configuration, client-side tags only capture HTML pages."
Serving Up Server-Side Analytics
Since most Web servers generate Web logs, they are typically easily and immediately available, making server-side Web analytics advantageous to the end-user. Server-side analytics offer lots of IT-based metrics, such as reports on spiders, downloads, bandwidth, load-balancing and errors.
"You don't have to decide in advance exactly what data you want to report on. Web server logs allow you to go back to the raw data at any point and change what you want to analyze — as long as the fields in the raw data were being logged initially," Vogel said.
Even when a server goes down, Vogel said it does not lose the Web server log data, because the data collection device and the server are one and the same. Log files capture all downloads and non-HTML files in addition to HTML files.
"Server-side solutions could be seen as more reliable because every page view requires a log entry, but there is a lot of information that is collected by client-side that can't be collected by server-side analysis," Sarrel explained.
Hosted vs. Local
When considering externally hosted, or on demand, versus locally hosted installations, the key is to realistically assess both the hardware and human resources, including ongoing maintenance and support required for a locally hosted installation.
Local installs keep a company's data assets in-house, which is a positive, but consultants warn not to underestimate just how much time and resources it may take to maintain a locally hosted solution. This can be particularly true in organizations where IT internally "charges" marketing for changes and support.
"Local installs certainly provide the flexibility to reanalyze previously analyzed data without incurring a reprocessing cost if changes to reports or filters are made," Vogel noted. "However, with a local version, this reanalysis can be very resource intensive and should be optimized to a minimum."
Of course, that analysis can fail and require a great deal of time to troubleshoot, Vogel added, whereas an externally hosted option places this troubleshooting burden on the analytics vendor.
"Hosted Web analytics solutions are attractive because all of the 'work' is done by the hosting company, which frees in-house staff from having to develop or customize a solution," Sarrel said. Plus, if you are using a hosted service, you can write off the cost of the service as an operating expense.
With scads of vendors on the Web analytics market — and more likely to emerge in the coming years — beginning the selection process with a clear understanding of these three options will help you narrow the field. Once you have the metrics in hand, it's still up to you to put the data to good use.
---
This is Part Two of a three-part series on Web analytics by E-Commerce Times reporter Jennifer LeClaire.
Part One
ran on Tuesday, March 14. Look for Part Three next week, on Tuesday, March 28.
---