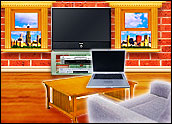 More than a year after it shut down The WB Television Network, Warner Bros. said Monday it is bringing back the brand as an advertising-supported, video-on-demand site.
Warner will launch a beta version of TheWB.com sometime early next month as part of a larger push to capitalize on new channels for distributing video content.
Like the television network, which shut down late in 2006 after a nine-year run, TheWB.com will be aimed at young viewers and consumers, targeting the 16- to 34-year-old demographic, with an emphasis on young women.
The site will offer both original programming created for the site under the new Studio 2.0 brand and re-released shows that first appeared on the WB Network. It will also heavily emphasize interactivity — a tie-in with social networking site Facebook is planned — and a network of distribution partners will spread the content across the Internet. KidsWB.com, a companion site aimed at a younger audience, launched on Monday.
The new sites are based on the goal of creating digital destinations for specific audiences to turn to for their on-demand video consumption.
The sites are the "natural progression" of the studio's digital strategy, said Bruce Rosenblum, the president of the Warner television group, adding that they complement its core business.
Back From the Dead
Warner has plenty of company in seeking to use the Web as an alternative distribution medium, and may have both content and an audience that lends itself to the type of viral sharing and marketing of programs that others have sought to leverage.
The WB Network was shut down shortly after the network was merged with UPN. Together, the networks formed a single channel, known as "The CW."
Though it targeted a relatively narrow demographic, The WB managed to score some popular and critical hits with some of its shows. Programs such as "Buffy the Vampire Slayer," "Gilmore Girls" and "Smallville" built strong followings.
Those programs will be among those to be revived when the site launches — Warner is now inviting people to sign up for the opportunity to be invited to take part in the beta test.
Warner TV also produces popular shows that appear on other networks, creating and producing "Friends" for more than a decade as well as current shows such as "Pushing Daisies" and "Chuck."
Competing With YouTube
After it launches, TheWB.com will offer a Facebook application that will integrate WB content into a user's Facebook account and also allow Facebook applications to work on the new network.
Even thought the Web-based video market is still in its early days, gaining a large enough audience in the space to generate significant advertising revenue may not be an easy task for new entrants, said Yankee Group analyst Mike Goodman.
The same demographic group that TheWB is after already spends considerable time watching and sharing video on Google's YouTube, he noted.
"Advertisers are turning to the Internet to find the fractured audience, but the audience is fractured even online," Goodman told the E-Commerce Times. The Facebook integration and the aggressive distribution approach will help with that by creating more opportunities for young people to encounter the content.
Getting Original
What may help set TheWB.com apart is the apparent commitment by Warner to create original programming — likely a costly and risky proposition given the uncertain return from online advertising.
Original Web shows from top-name producers and directors are planned, Warner said, including programs that look at life inside college sororities and a Hollywood rock club — a series that will feature musical performances.
The content will also be widely distributed across the Internet through partnerships with Comcast, Fancast.com and AOL — which shares parent company Time Warner with the studio. Consumer products maker Johnson & Johnson has signed on as the first sponsor of the site.
While YouTube continues to draw the lion's share of online video views, advertisers are likely eager to back a more established brand that presents video in a more controlled environment, Gartner analyst Andrew Frank told the E-Commerce Times.
"Advertisers want video traffic that's being directed to users through a professional channel rather than a more free-form approach," he said.
The network's decision to create channels tightly focused on specific demographics will also resonate with advertisers if the network can draw viewers in large enough numbers. "The promise of personalized marketing is what creates excitement among advertisers and media companies are trying to make that possible," Frank added.